Danish
---
(Header: Swoon Lounge Chair & Spanish Lounge Chair )
Do you remember Kaja Møller? You're right, Kaja is the CEO of our beloved brand Fredericia! In this edition of Furniture blog, we'll walk you through his abode. Situated next to the seashore, the Copenhagen home, featuring unpretentious architecture, achieves sophisticated décor with simple hacks envisaged by the master furniture craftsman himself. 
With a monochrome palette of grey, taupe and white, the interior lighting is unlike any other interior you'll see. Furniture artifacts from Danish designers complement the interior in exciting ways. Besides Fredericia designs, the home also features furniture by Borge Mogensen and Verzelloni, among others.
(Picture One: Swoon Lounge Chair  & Piloti Coffee Table | Picture Two: Stingray Lounge Chair | Picture Three: Gallery Stool)
To enjoy the magnificent view outdoors, while also having a conversation, the living room sits an eclectic collection of lounge sofa, chairs and coffee table. Since the house has unusual surfaces, paintings adorn the walls, and side tables and chairs occupy the uncharacteristic spaces. Cabinets along the sides of walls add character to the home, and though some of the cabinets are from another era, you could achieve a similar feat with regular desks and shelves.
For those of us who live in Singapore, a fireplace is from the storybooks, but we're always curious about the aura surrounding one. In Kaja's thoughtful design, the inglenook warms up the dining spot for a hearty meal with family and friends. It's a tradition in Denmark and many cultures around the world to share epic tales over a banquet around the fireside.
(Picture One: Spine Barstool | All Pictures: Trinidad Dining Chair) 
Featuring a wooden-top dining table, the seating arrangement is equally intriguing with chairs from the Caribbean, featuring designs that braid the light and shadows from sundown. Lamps dangle from the ceiling to provide lighting for special occasions. The far side of the dining area blends with the open-air that extends into a green canopy, and on most days, you'll enjoy warbling with the birdies. Adjacent to the dining space is a kitchen featuring a marble-top island table, the perfect venue for dedicating the weekend to a loved one, preparing a meal together. Sit on the stool and slice the avocados, tomatoes and onions, while your partner keeps an eye on the proceedings of the hot pot.   
Our favorite space is the patio, featuring metal furnishings. Fancy a chat over coffee or an ad hoc candle-lit dinner? This bay has rustic looks, and yet it's incredibly charming to create a lasting reminiscence effortlessly.
So, do you feel inspired by the minimalistic Scandinavian décor? Please let us know what you think!
---
Dehn's Mansion

Dehn's Mansion resides in the inner city of Copenhagen, evoking sentiments from another era, and experts hail the historic building as the soul of the city. The interior features a dark color scheme and natural materials, which are unique architectural characteristics of Finn Juhl's exclusive designs. Considered a classic Copenhagen structure, the Dehn's Mansion is deemed worthy of preservation.   
Interior Décor  
Onecollection, a curated furniture collection from House of Finn Juhl, decorates many of the rooms in the mansion. The set complements the rooms of the historic property.  Regarding the furnishing of Dehn's Mansion, the founder of the collection, Hans Henrik Sørensen says, "To Finn Juhl, it was crucial to make all elements of an interior interact and complement each other, thus creating a uniform expression." 
(Featured: Pelican Lounge Chair & TS Coffee Table by Gubi)
Standard materials are a characteristic feat of the interior decor, while curtains, rugs and upholstered furniture enhance the acoustic quality. Step into the building, and you'll feel the warm and welcoming mood, which is how the building earned recognition as the soul of the city.   
Each room has a specific purpose, which is illuminated by the special lighting. Glass walls within carefully selected spots not only help define, but also separate the meeting and conversational rooms. Japanese expression, paper-like, and shielding fabrics of a poetic are only a handful of features of Finn Juhl's impeccable designs in the mansion.  
(Featuring the Reading Chair)
Møller and Rothe created the lighting design, which provides unique decor to the structure. Shadows and dark corners, which are avoided in conventional architecture, provide contrasting elements to the design. The lighting effect helps highlight the details of each room and work zone, which have different purposes and environments. Dampened lighting is another innovative feature of the casual areas, where work is accomplished.  
The original expression in every room is part of the conservation and recreation effort. On the other hand, a modern workspace is also part of the philosophy. Mette Gravergaard, a manager at the Spaceplanning & Interior Design at Årstiderne Arkitekter, argues opting to highlight quirks and crookedness of the mansion instead of hiding them is a bold approach. The conscious choice is achieved by materials and colors, which contribute to the philosophy, making the additions an active aspect of the design. The work of Årstiderne Architects helps portray the original characteristics of the old building, while also keeping it relevant for a modern context.
(Header features the Fredericia Collection)
This week, we're responding to a challenge posed by one of our patrons on social media. The living room is our favorite place for creating memories—watching a toddler grow is something we all care so much about, rehearsing the maid of honor speech for your best friend's wedding requires a lot of space, without the setting, how would you host spectacular parties for family and friends, or taking time off for quiet reflection to deal with the occasional setback, are only a sample of the drama that unfolds in the living room. So, we rephrase the question as how do you create the perfect stage for life's best moments?
Based on our many years of experience, we've put together the perfect algorithm, a five-step process, for you to create a living room that will knock your socks off!
Step I – Plan the Space
Begin by planning for the space. Most of us Singaporeans live in high-rise buildings, and the view from the top is so good, we've become creative geniuses. A fundamental element of interior design, space planning involves an in-depth analysis of space utilization. A designer-drafted plan defines the zones and the activities within those zones. We've seen patrons build incredible homes in the sky just by being creative. So, think about the area and consider the possibilities for the phase you may be in your life.
Step II – Choose a Theme

A Mid Century Living Room featuring the 45 Lounge Chair and 57 Sofa
Themes inspire the settings. Industrial, luxe, minimalist and mid century (modern) are popular themes. We encourage you to dream up something you care about. Say, you like adventure, your living room could draw inspiration from the beauty of nature or the ruggedness of the mountains. If you're a modernist and care about business and innovation, opt for a classy theme, and so on. 
Step III – Select Designer Furniture 
A modern living room featuring the Stingray Rocker, No.1 Sofa and Piloti Coffee Table
Consider furniture as the props for the stage. Lounge chairs, coffee tables and sofa sets craft the exposition of your living room story. Choose furniture that complements the space and theme that means so much to you. The sizing of each furniture item should complement each other. In interior decor, it's considered a sin for a coffee table to be taller than the seating height of a sofa, and it must never exceed two-thirds of a sofa's width. If you're a poet or writer, select furniture that evokes a sense of creativity, so you can weave that epic saga right in your living room, or if you fancy the innovation theme, choose chic furniture.
Step IV – Select Superior Materials 
As you continue to build up the living room, we highly recommend keeping a sharp eye for high-quality materials including stain-resistant fabrics, especially if you're a young family. Kids engage in mischief, guests like to be mollycoddled, and sometimes unfortunate events are unavoidable. A little foresight could help you prepare well for the quirkiness of life.
Step IV – Jazz Up Odd Spaces

Featuring the Floow Sideboard   
Furnishings enhance the stage you've set. If there are odd or unfilled spaces, consider adding furnishings to match the theme and décor. Chests, extra tables, flat-top ottomans, seating arrangements, and sideboards are some readily-available furniture items. Jazz up the masterpiece with finishing touches.
So, what do you say? Would you like to upgrade your living room with this new formula?
---
Featuring the Lift Sofa from the Iconic Collection
If you enjoy reminiscing with the family photo album, you probably noticed that only grandpa and nana got to sit, while the rest huddled around for the family picture. Closer inspection reveals that sofas were non-existent at the time. Fast-forward a hundred years; sofa sets have not only become the main furniture artifact in a living room, but also the designs are customizable with many different configurations. Our patrons are great purveyors of decor innovations and often stop by just to check on new models. To our sheer delight, the 'x-seater' lingo has caught on, though many of our patrons don't know what the term really means. We're happy to provide more clarity on some of the designer sofa configurations available in our showroom.
A 2-seater sofa ranges between 1.5m and 1.8m. If, by genetics, your family members have larger body frames, a 1.8m 2-seater is your ideal choice. So, the next time you're in our showroom, feel free to try the different versions of the same 2-seater designer sofa.
Featuring the Cosy Sofa from New Modern Collection
If you want something that can accommodate more people, consider the 3-seater, which ranges from 1.9m to 2.4m. Still confused? A rule of thumb among furniture designers is to allow 0.7m for each person, so to seat three guests you need a 2.1m sofa set.
Featuring the Delphi Sofa from the Iconic Collection
A 4-seater is any sofa longer than 2.6m. While choosing a 4-seater, consider all your wants and needs including the family body frames, interior décor, seating accommodation, and space. Think about all the places you've been to where the seating comfortably accommodates any team.
Featuring the Hannah Sofa from New Modern Collection
L-Shaped sofas are ideal for large spaces with corners. See how the Chaise and Corner sofas seamlessly blend with the space and décor. Besides opening up the awkward area, the L-Shaped sofa could also double up as a resting place for a serendipitous sleepover.
Featuring the Cosima Sofa from New Modern Collection
Modular sofas allow for quick configurations. Say, you're having a serious conversation with your partner, you could turn the sofa for a face-to-face chat. If you live in irregular spaces, the modular sofa can intuitively help you rise to any occasion—celebration, group work, and so much more.
Featuring the Fatty Sofa from the Iconic Collection
A furniture innovation, the Open-Ends design allows for creative use of the seating arrangement. Just by detaching the ends, the sofa is ready for promoting varied postures. If you've been to the art galleries, you may recall portraits of monarchs, who convene sessions through the day in wide-ranging positions.
Do you fancy an 2-seater sofa for your home? We'd love to help you choose the perfect-seater for all your wants and needs.
---
Designed by Atelier Here
Watching the ephemeral colors of the distant waters, from the living room of a high-rise, is something many of us Singaporeans revel in, every day.  For those of us in the services industries, the Lion City's futuristic infrastructure is designed for quick bird-hops into spaces for rejuvenation and entertainment, besides easy access to business and commercial hubs. We're delighted to show you a fully furnished home, which seamlessly blends with the ecology, with some of our favorite designer furniture.
The living room, where we spend most of our time, is for creating memories with family and friends. Choose from two-, three- or four-seater options of the Lift Sofa, which is configurable for most high-rise spaces. Jens Juul Eilersen's ingenuity is available in colorful fabric or leather upholstery to match the décor.
For floor lamps, choose the G-10 Floor Lamp, another Greta Grossman masterpiece. Lighting from the eye-catching fixture is equally pleasant as if accompanying you for a sleepover, and the two of you work until the wee hours composing the report due before noon.
A GamFratesi design, the Coney Dining Table and Beetle Dining Chair set fits perfectly in most compact spaces. Choose from colorful fabric or leather upholstery to match the décor and enjoy animated conversations over meals with family and friends. Seat up to ten guests by extending the leaf of the Coney Dining Table, a Bolia innovation for modern living, where space is for a premium.
Within areas that inspire elegant living, tables contribute to accessible spaces for storage and activities. Another Bolia artifact, the Hex Side Table complements any furniture in the living room. Besides its unique geometry, the black or white marble tops and matching copper legs add oomph to the character of the space.
Interior lighting not only helps create ambiances for moods but also helps evoke sentiments that make us thoughtful. Greta Grossman's iconic Grasshoppa Table Lamp is an excellent addition to a skyscraper home. Set up the colorful lamp, which blends elegance with form, on a desk or table for immersive late-night reads.
Working days are so exhausting, we want to dive under the sheets as soon as we get home. Sleeping on the Duxiana Bed featuring inbuilt sleep technology not only provides the much-needed repose, but the experience also leaves you beaming through another day at work.
If you're among the lucky ones with some outdoor space, jazz it up with the Cielo Outdoor Lounge Chair, a Diphano marvel. Designed for the Mediterranean climate, Cielo Outdoor Lounge Chair can magically transform the exterior into an idyllic lounging arena.
So, how did you design your apartment? We'd love to share your creation with our patrons. 
If you've been to the Museum of Modern Art in New York or the Die Neue Sammlung in Munich, Hans J Wegner's furniture collection may evoke a sense of deja vu. We're delighted to present the iconic collection to designer enthusiasts in Singapore. Discover why CH24 is popularly known as the Wishbone Chair, or the quirks of the Ox, PP503 and Queen Lounge chairs that drive fans into fits of amusement. An apt recognition for the achievement, the Royal Designer accolade from the Royal Society of Arts in London is only a sample of the awards won by the master furniture craftsman.
CH24 Chair – Wishbone Chair
Wishbone is the iconic Y-shaped back, which gives the CH24 Chair its popular nickname. The Wishbone Chair has its roots in the Ming Dynasty, as shown by the portraits of Danish merchants sitting on the seats during their travels. The design is incredibly hard to replicate as it involves more than a hundred steps to put together each chair. 
Ox Chair
Wegner's favorite chair, the Ox Chair shows the playful side of the masculine psyche. Sturdy design and bold contours characterize the Ox Chair, which could sit in your man cave, living area, or another space you fancy. The master craftsman shows how furniture could entertain while serving a function. On several occasions, Wegner cautioned that being too serious has detrimental effects on disposition and character; so, feel free to sit on the master designer's favorite creation and conjure up some zany ideas of your own.
Queen Lounge Chair
Contrary to the Ox Chair, the Queen Lounge Chair is about comfort and elegance. The ergonomic back, neck support and rests provide an experience like no other—it could be hours before you realize you've been engaged in deep conversation or pondering about a serious predicament, just like a princess or queen. Choose from a range of fabric to match the interiors, and even add a footstool to have fun by stepping into the shoes of your favorite royal character.
PP503 Chair – The Round One
A chair for commoners, the PP503 Chair earned its reputation as the Round One due to its striking wavy design. For furniture experts as well as design patrons, the PP503 Chair is a delight to sit on or show off. It's one of our best sellers, and there is just one left in the showroom.
So, what do you think about the Hans J Wegner collection? Would you like to revel in your own creations, like the master himself? Please let us know what you think.
(Header Picture features a 2 seater Slice Sofa)
For over a century, furniture house Eilersen has continued to amuse furniture lovers with stunning furnishings. In this post, we present the four most astonishing Eilersen designs available in our Singapore showroom. Inspired by our friends on Instagram, we've put together this narrative featuring décor with the Eilersen designer sofas.
Ajour Sofa
 

 

View this post on Instagram

 
The incredibly stylish 2 seater Ajour Sofa is excellent for spacious, vibrant indoor areas. With generous arms, modular sections, sturdy frame and layers of cushions, experience lounging like never before. Besides the ability to add center sections, we offer fabric in ten colors to match the vivid interiors. 
Plano Sofa
 

 

View this post on Instagram

 
The L-shaped Plano Sofa provides a modern lounging experience. In contrast to the most popular lounging sofa designs, which tend to be heavy, the Plano Sofa is lightweight, and yet, promotes enjoyable reclining. Regardless of whether you're a few friends catching up on lost time or a large enough group to form a lacrosse team, relax across or lounge along the Plano Sofa. Configure the sofa as you please by adding center sections and choosing the orientation of the closing segments.
Play Tower Sofa
 

 

View this post on Instagram

 
You'll marvel at how quickly the 2 seater Play Tower Sofa transforms from a sofa into a bed. Besides beauty and elegance, flexibility and mobility are the thoughtful elements of the Play Tower design. Cone-shaped back blocks are the innovative elements, which become immobile once placed on the non-slip material. Move the blocks around the sofa or on the floor to build a 'nest,' like many of our patrons, who find the arrangement incredibly comfy for binge-watching their favorite TV series or for late-night reads.
Slice Sofa
 

 

View this post on Instagram

 
If you're looking to buy fine modular sofas, we recommend the Slice Sofa. Build from one to three slices, and choose from fabric or leather, for a variety of deployment options, depending on your interior decor. With several colors, sections and sizes to choose from, you couldn't go wrong regardless of whether you deploy the divan in a downtown high-rise or a villa.
Closing Notes
Each of these four sofa sets has a unique persona! Did you notice how the sections transform the sofas in the exhibits? Which one of these sofas do you fancy the most? If you feel inspired, create your own stunning spaces with Eilersen designer sofas. Send us your design, and we'll share it on Instagram. We welcome you to our showroom and check out the luxury furniture. We've only a few sets left, so hurry!
---
The Chair's Story
In 1958, Borge Mogensen dreamed about making a comfortable chair, which eventually blossomed into the Spanish Chair, and the rest is history. Though the Spanish Chair, inspired by the designs of master craftsmen from the medieval era, seems to have reached its golden years at sixty, the truth is—Mogensen's charismatic masterpiece is timeless, and every furniture lover wants the Spanish Chair. 
Character & Design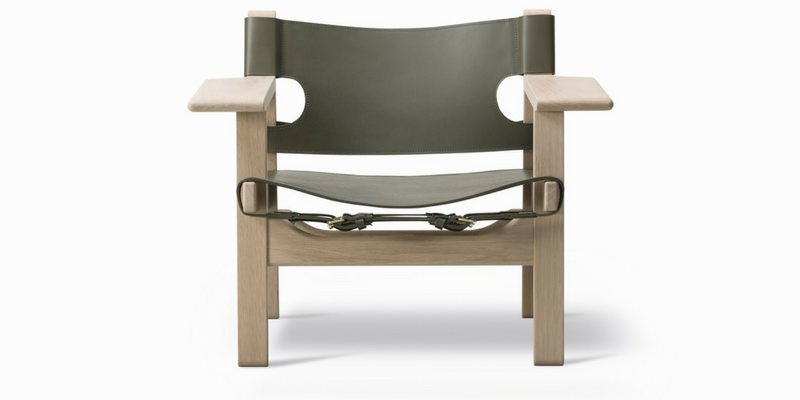 One of the most intriguing aspects of the design is the worldview, which weaves function, form and materials, thereby giving the furniture archetype a life of its own. Since furnishings play such an important role in the lifestyle habits of people, it's critical to propose furniture in harmony with the lifestyle characteristics of the patrons. The Spanish Chair has influences from cultural nuances in France, Scandinavia and the United States, which give the chair its captivating persona. Besides the design philosophy, the wonderful memories of patrons are also tied the modern version of the chair.
With a sturdy frame, the design accommodates numerous features for comfy seating. The backwards-tilting seat is naturally ergonomic, and the camber rest cuddles the backbone, urging the guest to relax just a bit longer. On the armrest, get creative and place your arms, accoutrements, or just about anything you fancy to make the most of your occasion on the chair. Choose from six choices of oak wood to match your lounging decor.
Spanish Chair in Olive Green Leather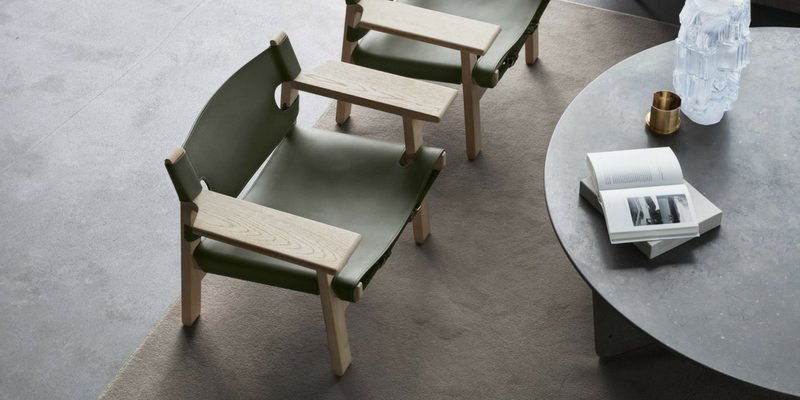 As a tribute to one of the finest furniture creations, the Spanish Chair 2018 is a special edition memorabilia—it's the only one featuring Olive Green saddle leather. Patrons who have owned the chair for decades marvel at the color scheme that matches even the most meticulously crafted interiors. We present you evidence from residential and office lounges, and the results speak for themselves.
Q&A with Rasmus Mogensen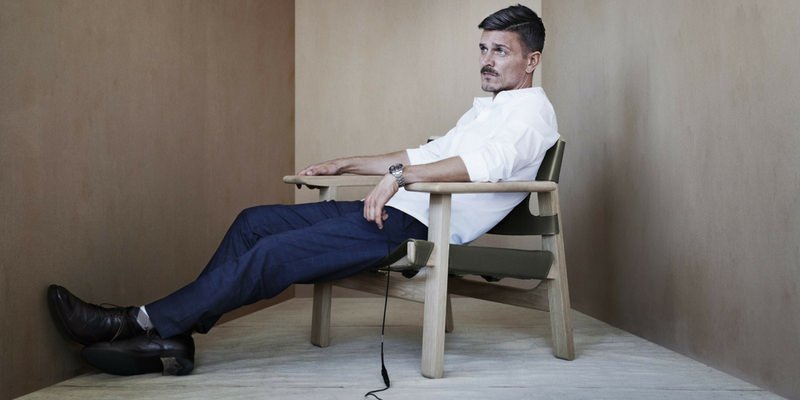 As part of the season-long celebration, the special edition Spanish Chair also features a conversation with Rasmus Mogensen, the grandson of the legendary craftsman. The Q&A covers Rasmus' personal viewpoint on design and how it has impacted his life. In addition, it also details aspects about Borge Mogensen that was previously unknown.
Rasmus' journey in life thus far has clearly indicated how a passion for functionality can transcend generations.  
Closing Notes
We're delighted to host the Spanish Chair in olive green leather in our Singapore showroom this fall. We'd love to have you in our showroom to try the Spanish Chair for yourself. This limited edition furniture is on sale only till 31st December, so don't miss out on this excellent opportunity to own an iconic furniture item. 
---
Mirrors have such deep roots in our evolution, it's hard to imagine a home without one. Kings and vagabonds, quirky serendipities of damsels, and wizards and talking donkeys, we've seen them all! Though the zany stories take us through an emotional roller coaster, it's the mirror magic we'll want to bring home. As we venture the world for great furniture, sometimes we come across such persuasive homeware, we can't help but add it to our Scandinavian furniture collection—remember the time when you picked up that beautiful scarf or tie you so didn't need! You'll soon SEE what we mean. Check out this fabulous mirror collection at Danish Design Co!  
Adnet Circulaire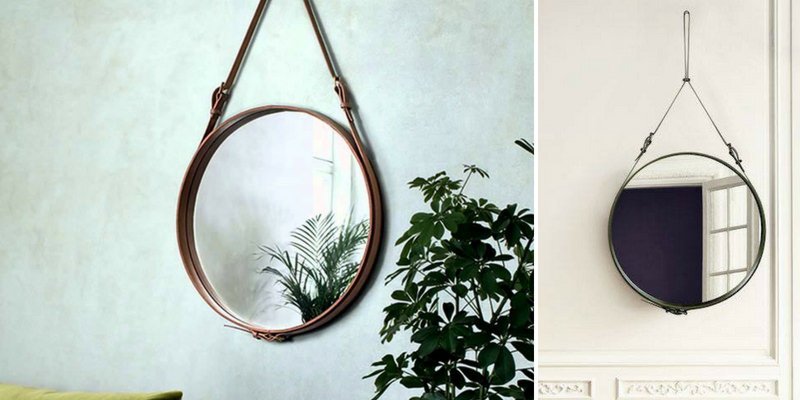 A Jacques Adnet creation, the Adnet Circulaire Mirror features fine leather, burnished brass and glass. If you've been to the races, you get that sense of déjà vu—elegance. Crafted for function, the Adnet is available in black, olive and tan colors to create a magical window right in your living room.
GUBI Wall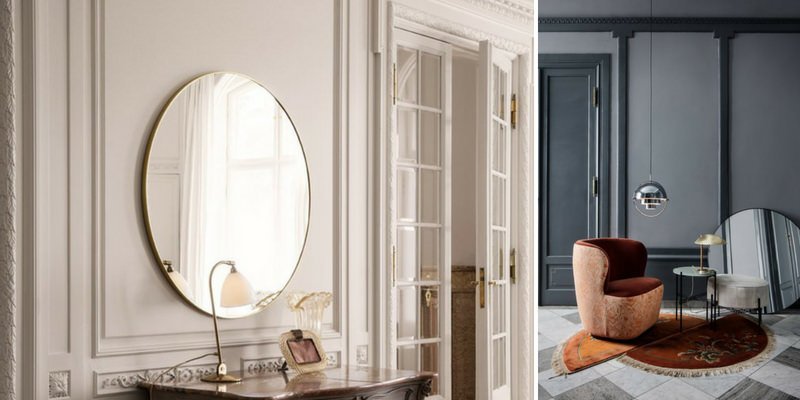 The large, round GUBI Wall Mirror creates a portal in the interior. Though sizeable, it does not loom large, and the brass edge gives it added warmth—silver linings! Set it up in the bedroom, washroom, or the hallway to enliven the space.
Randaccio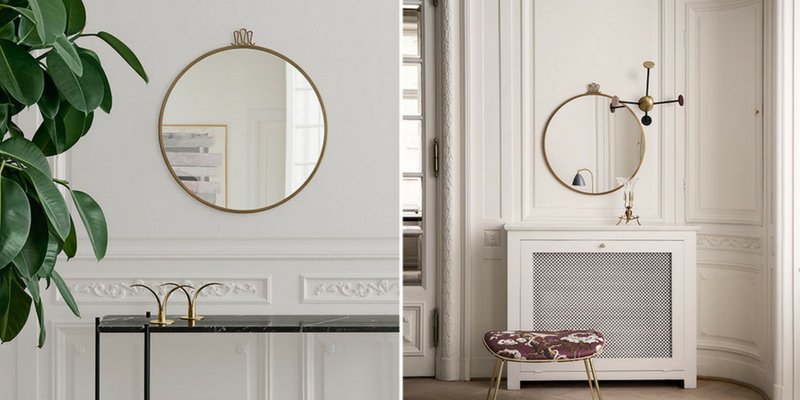 Gio Ponti's Randaccio Mirror has humble beginnings in Milano, where the dreamer schemed furniture items. Who could have imagined a crown on top of an antique brass mirror? It's this kind of imagination that won the designer the world's admiration. If you enjoy fairy tales and would love to see what a royal mirror could show you, deploy the Randaccio .
F.A.33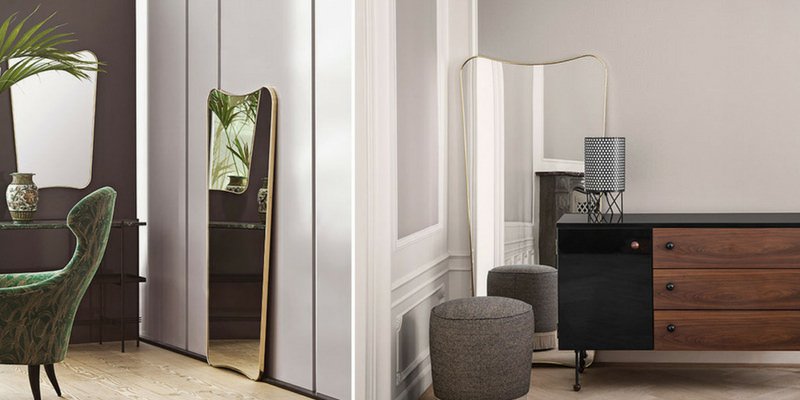 Another Gio Ponti creation, the F.A. 33 Mirror has a futuristic feel with its light curves and expressive features. Available in two sizes, full- and half-length, the black brass Mirror is reminiscent of an event horizon, which invites the onlooker to an adventure in another world. For a sci-fi or fantasy fiction fan, the F.A.33 is a subtle reminder of the grand mystery that beckons us!
So, do you want to try the magic spell? Drop by our showroom today and we'll be happy to be of assistance. 
---
Living the high life in Singapore has an active social dimension. In every milieu of the Lion City, you'll see families, friends and professionals spending time together having coffee. Set up a lounge in your own home or office—with a couch or chairs and a coffee table, the sitting area could become the perfect den for you to regale family, friends and acquaintances. We have some of the finest Scandinavian furniture in our portfolio. Here are five coffee tables for your lounging space.
Pon Table Series
A modern furniture innovation, Jasper Morrison's Pon Table Series is made of ash or oak. Unlike most tables, the Pon table does not have a top and underframe, but the table features an integrated top, column and foot. Based on its ideal size, the gorgeous table is great for deployment in front of a sofa or beside a low chair.
Plateau Coffee & Side Table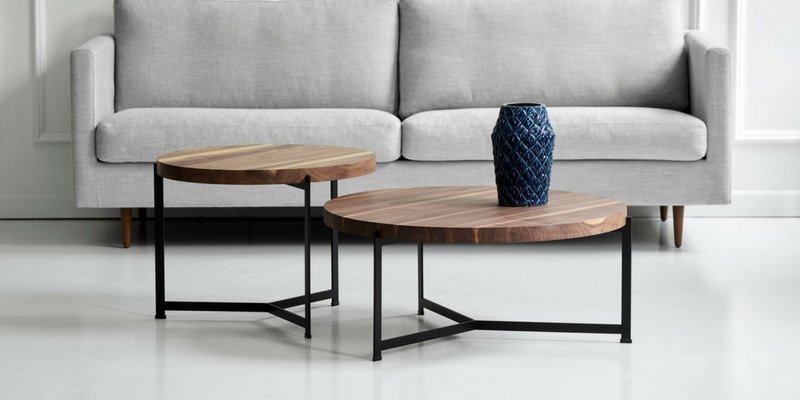 Inspired by a tree trunk in the forest, Soren Rose combined a solid wooden top with an elegant brushed stainless-steel base to create the Plateau Coffee & Side Table. The oak or walnut top features oil, white-oil or soap finish. If you care about aesthetics and impeccable quality, the Plateau table is a great choice.
AK 2510-2582 Coffee Tables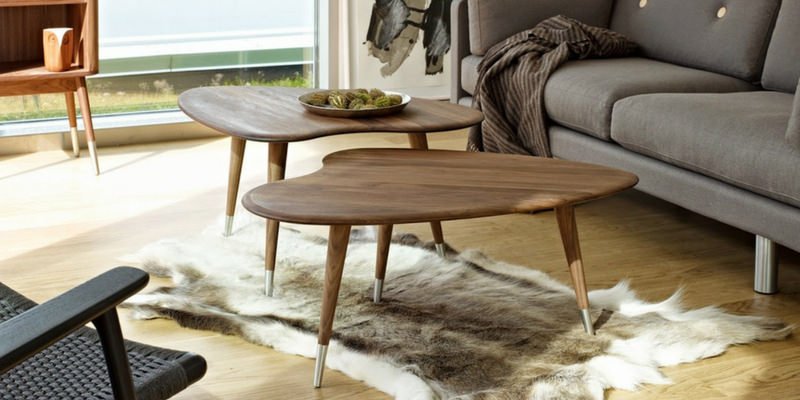 Søren Nissen and Ebbe Gehl matched wits to create the AK Coffee Tables, which are light, yet stylish, and come in many forms. Choose from heart, oval, round, rectangle and square tops to create an incredible lounging area or islands within the living spaces.
Eye Coffee Table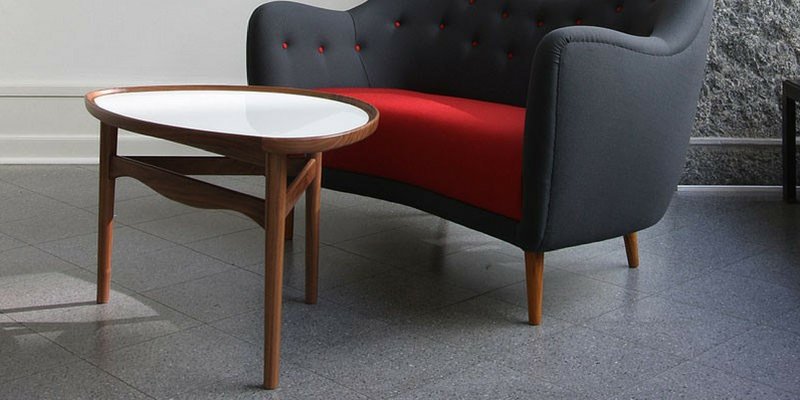 With an organic eye, the oak, teak or walnut Eye Coffee Table designed by Finn Juhl looks great in any space. Depending on the décor, choose from glossy white, black or veneered top to match the couch and chairs.
TS Coffee Table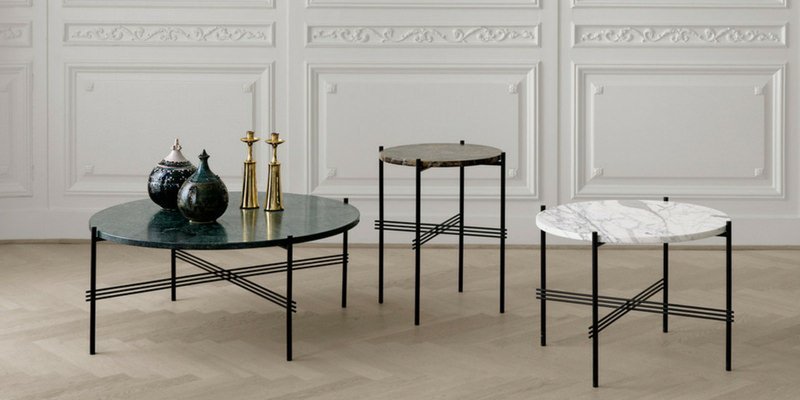 A fabulous creation of Stine Gam and Enrico Fratesi, popularly known as GamFratesi; the duo crafted the TS Coffee Table, which is actually a small group of tables.Available in different sizes, heights and tops, the TS Coffee Table is impressive in modern spaces. Deploy the table as a single or put them all together to complement the lounge furniture.
Which one of these coffee tables do you fancy the most? Please give it a thumbs up! Would you like to see them in action, or see other tables in our collection? Please feel free to swing by our showroom and check them out.
---
When you consider buying furniture, do you ponder about the interior décor? In this post, we'll show you how to engineer the interiors by scrutinizing how modern furniture contribute to aesthetics. With GUBI furniture, we'll create some flamboyant interiors. Celebrating life is GUBI's design philosophy, and the furniture artifacts stimulate the senses by their thoughtful schemes. Furniture designs weave the past with the present as if they're evolving.
Living & Dining Area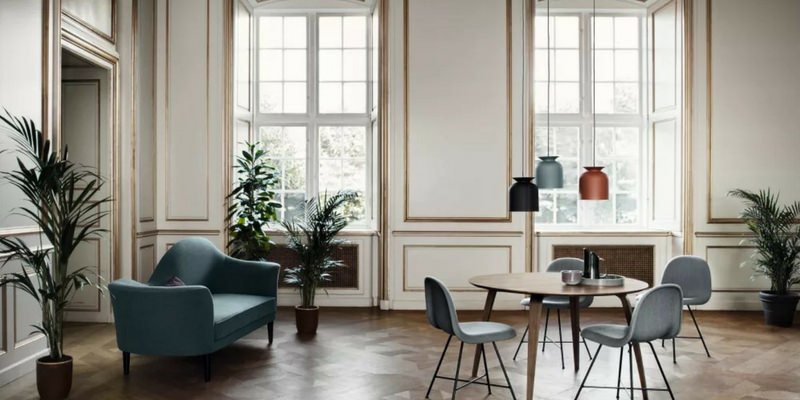 For just one moment, consider the interior shown in this image without the furniture. It's relatively simple with white décor, large bordered windows and vinyl flooring. Now, we'll place GUBI furniture to magically transform this ordinary home into a stylish modern residence.
Grand Piano Sofa
From the very first look, the Grand Piano Sofa evokes feelings tied to a grand piano—beauty, elegance and sophistication. Though the sofa set sits in a quaint corner of the living area, the space looks graceful, inviting the onlooker to relax, as if time has no relevance.
Ronde Pendant Lamp
Three Ronde Pendant Lamps illuminate the dining area. When the sun sets, and you get together for a hearty meal, switch on one to three lights to create the ultimate intimate setting for another wonderful evening together.
Gubi 3D Dining Chair
Four Gubi 3D Dining Chairs create the dining area for a family to sit together and share stories over dinner.
Round Dining Table
Sit around the Round Dining Table, akin to huddling around a bonfire, with lighting from only the lamps above, for an incredible feast.
Lounge Area 1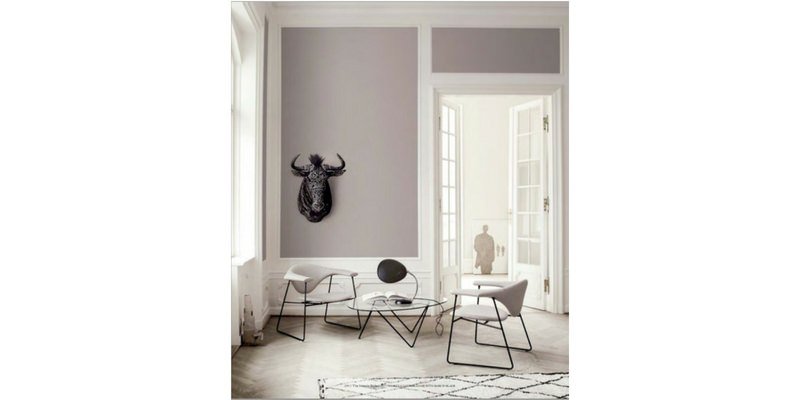 Let's say you've some free space in your residence, like the one in this exhibit. Create a stunning lounging area with a few additions.
Masculo Lounge Chair
The simple, yet stylish Masculo Lounge Chair can add character to any décor.
Pedrera Coffee Table
With the matching Pedrera Coffee Table, the pair seems inseparable as if bosom buddies.
Grossman Cobra Table Lamp
For avid readers, the flexible Cobra Table Lamp is ready to shine light anywhere in the lounging area.
Lounge Area 2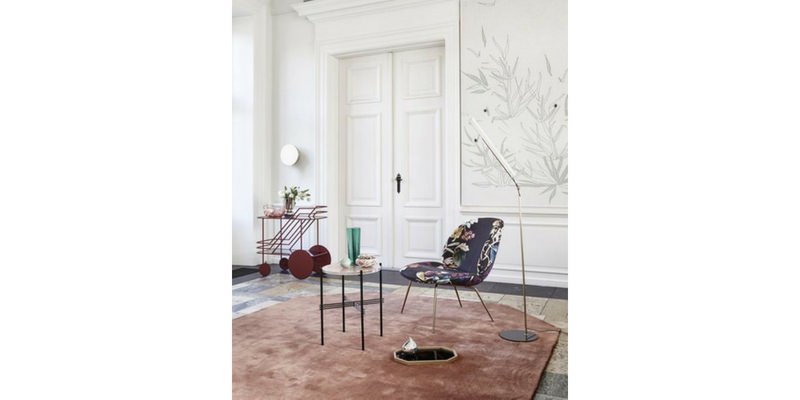 With minimal furniture pieces, we've created this lounging space, where you could browse, chat, talk or read your heart out. 
Beetle Lounge Chair
Move around the Beetle Lounge Chair anywhere in the space, and the interior still looks fabulous!
Gamfratesi TS Table
Though the Gamfratesi TS Table is an unusual companion to the Beetle Lounge Chair, isn't the arrangement inviting?  
Would you like to create some interiors or share some wild ideas? We welcome you to our showroom!
---
Joakim Lassen's creative talent and business acumen propelled Montana to become a leading Danish furniture house. In a Funen-based 19,000 square-meter hi-tech facility, 160 employees collaborate to create exquisite products for clients around the world. Over the years, Montana designers have produced one stunner after another. In this post, we're happy to show you some fantastic storage solutions from the designer.
Panton Wire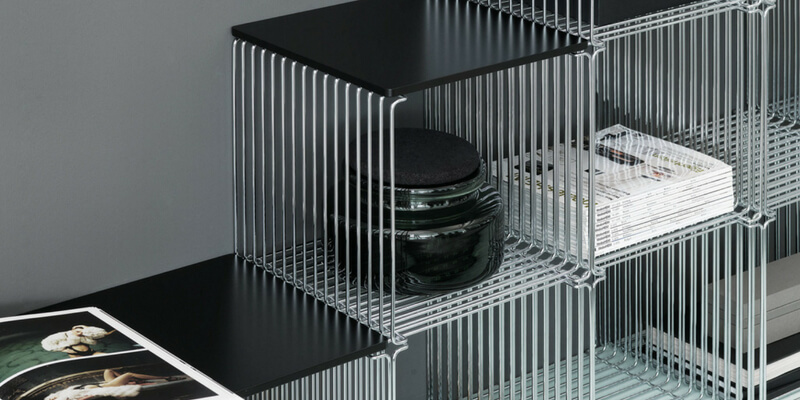 Verner Panton created the Panton Wire shelving system, which could be deployed individually or to complement other furniture. Sizing is one of the most exciting features of this product—craft a tiny shelf or build a large shelf with only a few additions. Available in chrome, dark chrome, and lacquered black, moulin rogue and black colors, the light Panton Wire system is equally elegant in residential or office settings. Panton Wire is one of the new arrivals in our Showroom!
Montana System
With plug-and-play modules, Peter Lassen's Montana System offers infinite possibilities for shelving. Choose from 42 colors, 4 depths and 36 modules to build a majestic shelf for all your storage needs. Build a personal shelf or a few shelves for various deployments in no time!  
Montana Skyline
Peter Lassen designed a system of light shelves and tables to float on discrete wall rails in the Skyline shelving system. Depending on whether you want to create a display or desk shelf, configure the length and depth of the system. The Skyline could also complement other Montana products. Regardless of whether the deployment is a residential or commercial setting, the Skyline is incredibly stylish, akin to the Lion City skyline.
Montana Bathroom
An ingenious Peter Lassen design, create your own bathroom décor with cabinets, drawers, mirrors and sinks. In just a few steps, and your own creative imagination, transform the bathroom into a spa. Choose from sizes and colors to jazz up the spa-like experience.
Montana Shoe Cabinet
For a residential or commercial complex, a shoe cabinet is a must-have furniture. Designers at Montana put together a shoe storage cabinet, Montana Hall Edition, as part of the hallway product line. Place the shoe cabinet in the hallway, corridor or entrance area, as the 20 cm – 30 cm deep cabinet fits perfectly in narrow spaces.
Don't you agree these storage solutions are simply fabulous? We've just received some of these systems in our showroom. So, please feel free to come and check them out!