There is nothing quite like coming home and sinking into your comfortable sofa after a long day at work – at Danish Danish Co, we offer a curated collection of the best sofa Singapore has to offer. This week, we shine a spotlight on Gubi's range of designer sofas.
Both Gubi's contemporary and mid-century designs continue to be highly sought after across the world, and it is not hard to see why. The appeal lies in timeless designs that transcend design fads, coupled with high-quality materials and handcrafted quality. 
In this blog, we're featuring 5 luxury sofas from Gubi that will look right at home in almost any type of interior.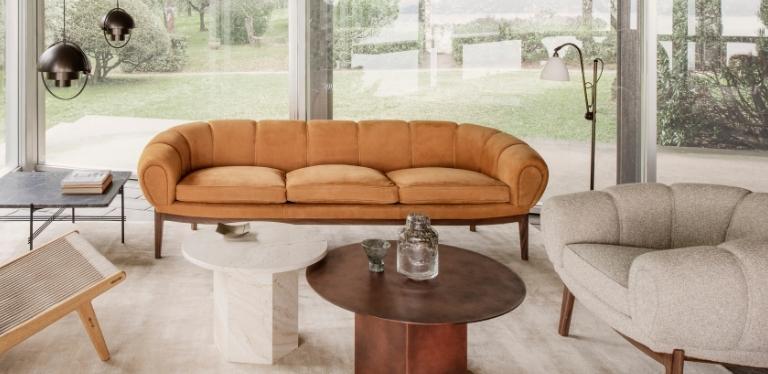 The sculptural Croissant sofa is a sight to behold, with its quirky and distinctive design reflecting its namesake. Designed by the mid-century Danish architect and designer Illum Wikkelsø, the Croissant represents his take on the traditional Chesterfield sofa and club chair. 
With its numerous complex curves and overall bold design, the Croissant is certainly a designer sofa that will not only delight the senses but also provide a relaxed, sitting comfort with plush armrests.
Illum Wikkelsø believed all sofas and furniture should be built to last, and each Croissant sofa is made with exceptional craftsmanship. The curves on the sofa are meticulously hand-stitched by Gubi's expert production team to honour his legacy as a craftsman.  

Doesn't the Pacha sofa resemble fluffy clouds? We certainly think so! The iconic Pacha was designed in 1975 by Pierre Paulin, a French furniture designer and interior designer. 
The Pacha is as stylish as it is comfortable; the sofa gently hugs your form with its whimsical, rounded shape. Designed with comfort in mind, the Pacha was created after extensive research, and with its organic shape and low-level height, offers both visual appeal and functionality to the user. 
The Pacha collection includes modular sofas, and lounge chairs with a swivel option available. The modular Pacha sofas are made by connecting two or more modules, and you have the choice of adding a removable armrest between each module for added comfort.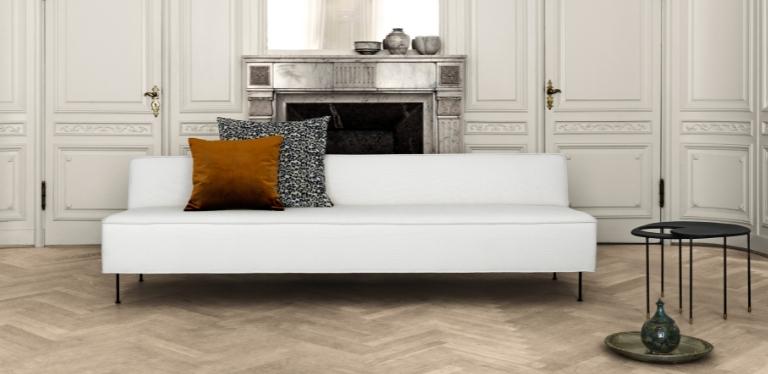 It would not be a complete list of timeless Danish sofa designs if we did not include a design from the legendary Greta M. Grossman. 
Next, we feature the Modern Line sofa with its sleek, elegant look. Designed by Grossman in 1949, the Modern Line was highly appraised when it was first revealed, and it is an epitome of elegant and feminine expression with its light, sleek lines. True to Grossman's signature design and vision, it features a minimalist design and slender legs. 
Ahead of its time, the Modern Line continues to remain relevant in its design until today. It is a design that will not merely blend into any modern or contemporary setting, but accentuate it.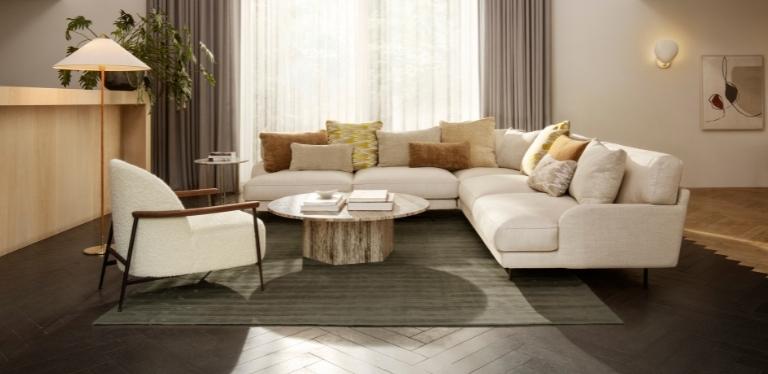 A delicate balance of contrasts with its straight, precise lines and deep, soft seats, the Flaneur sofa is an exquisite blend of contemporary design paired with classic influences. Designed by Danish-Italian duo GamFratesi, the Flaneur is an ingenious reimagination of the iconic 19th century English 'roll-arm' sofa.
As per the Scandinavian design philosophy, the Flanuer sofa is designed with the user's comfort in mind without compromising on functionality. With its carefully thought-out combination of springs, foam and feathers in its deep seats within a slender wooden frame, the Flanuer enables both seated and reclined positions for the user. 
This designer, modular sofa is one that is ideal for Singapore homes, and a solution that meets the growing demand for modular furniture, whilst maintaining a visual appeal that will complement your space.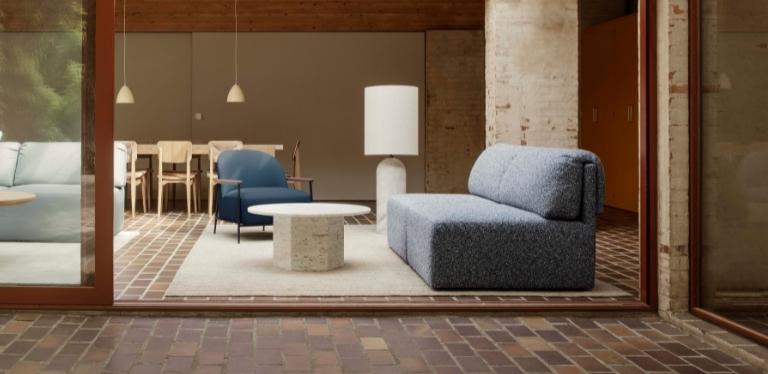 Introduce understated luxury to your living room with the Wonder sofa. Designed by Space Copenhagen for Gubi, the Wonder sofa is a wonderful pairing of elegance and simplicity.
A remarkably comfortable designer sofa, the Wonder also features a practical side as it is highly modular and allows for numerous configurations, whether it be placed side-to-side, back-to-back, or side-to-back. Quite the solution for homes with open concepts, we think!
Discover More Gubi Designs 

Drop by our designer furniture showroom to discover our Gubi sofa collection, as well as other Gubi designs ranging from lighting, coffee tables and lounge chairs – any of which would add a touch of Danish 'hygge' to your living space
---
Visit Our Designer Furniture Showroom
The high quality craftsmanship used in the production of the luxurious designs from the Iconic and New Modern Collections ensures durability. These pieces resist generational design fads and will continue to be in style thanks to their outstanding beauty. Visit Danish Design's furniture store in Singapore to see its wide selection in person.
Our excellent team will be glad to assist you personally in our shop located at 100E Pasir Panjang Road, B&D Building, #06-03 Singapore 118521.