At Danish Design Co Singapore, we handpick designer sofa pieces that fulfill the needs of blooming luxury sofa seekers to frequent designer sofa users. All our Nordic sofa brands feature handcrafted designer pieces made in Europe. If you find yourself developing an exquisite taste in authentic Scandinavian sofas for your home, here's where you can find only the finest designer pieces that are meticulously curated by us. These selected European brands will surely elevate your abode with divine designs that are contemporary, unique and unforgettably stunning. Let's take a look at our designer brands and assist you in finding the right sofa for your home.
The
GOOD
New to European Designer Sofas? For Starters, you can check out:

Bolia
In 2000, Bolia was founded in Denmark surrounded by lively natural Scandinavian design tradition and inspiring vibrant creativity. In collaboration with a group of independent designers from all over the globe, they straddle the limits between creativity and produce their own version of New Scandinavian Design. Regardless of where Bolia's designers are based, they are all equally passionate about Scandinavian design, natural materials, and environmentally friendly projects. They enjoy pushing the limits of Scandinavian style giving it a fresh perspective that is sustainable and universal, and help write the next chapter of Scandinavian design.
Modern Design with A Scandinavian Twist
Sofas offered by Bolia comes in conventional sofa configurations – 2 seater, 3 seater, 4 seater, open end sofa and many more. They are also highly modular for easy customization, featuring their best selling sofa designs like Noora, Cosima, Lomi and Scandinavia Remix. The neutral stylish and elegant sofas are made to outlive passing fashion trends. Every single sofa is constructed from natural materials and has a timeless appeal that ensures it will serve as a statement piece in your house for years to come.
Materials Used – What Makes A Bolia Sofa
Bolia provides a wide variety of vibrant textiles and supple leathers, from plush velour to durable wool. The textiles are made from durable and simple fibers made from polyester and nylon. For hot and humid environments like Singapore, these fabrics are prone to color change when illuminated by direct light coming from various angles. Bolia sofas also feature a mixture of wool, cotton, and linen in their sofa upholstery. However, it is worth noting that Bolia sofas should be kept in an air-conditioned environment as they may trap heat in the Singaporean weather.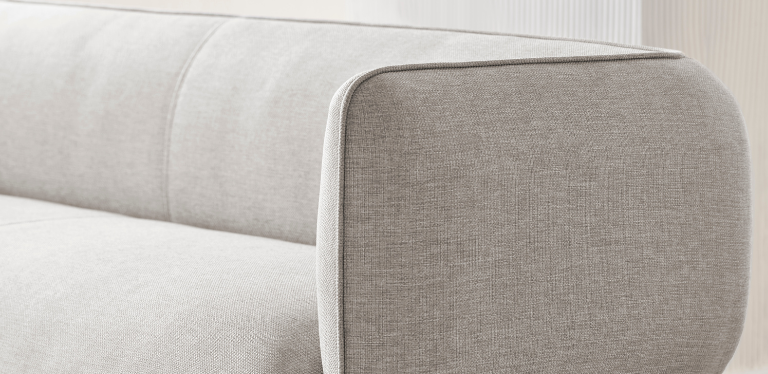 There are two types of sofa cushion/fillings available at Bolia, cold foam, and down feather. The contemporary designer brand also uses three types of leather. They can deteriorate brought on by age, mechanical stress, and wear and tear, fading is one of the primary sources of damage to the leather. Therefore, this means that the color of the leather would likely start to fade from light and UV radiation.
Maintenance and Final Verdict
You are advised to change the cushions frequently to guarantee even wear and use because the upholstery on Bolia sofas will alter over time. Bolia sofas made from the foam will maintain their shape for a long time since the foam-crushing process ensures that all air bubbles are homogeneous. Most of the sofa designs do not have removable covers. Thus, it is imperative to maintain your sofa in the best possible condition. Frequent vacuuming uses a soft nozzle and low suction to vacuum it so that the filling won't shift or unintentionally remove the fibers.

Bolia provides a great collection for young families or working couples seeking elegant and contemporary sofas at more reasonable and affordable prices. It is a great choice to start with for your peaking interest in luxury sofas. They also provide a 10-year warranty on all of their sofa collection designs.
---

The BETTER
Explore more elaborate designer sofa pieces:
JUUL
Within the N. Eilersen A/S organization, Juul Furniture is a stand-alone brand. Juul is the very definition of contemporary design and exceptional comfort assured by its positive reputation, high quality, and longevity. It is crafted at the Eilersen group's factories, where top-notch expertise and craftsmanship are guaranteed. The idea behind Juul is that everyone should be able to sit comfortably at a reasonable price.
An Alternative to Iconic Sofa Designs
Juul aims to craft sofas that could fit both huge homes and urban apartments, therefore scaling their sofa pieces to be equally hospitable for both a large family and a couple. Juul's sofa designs perfectly combine angular features and the short legs of a lovely sofa with a blossoming and inviting comfort. The versatility of the sofa design allows it the distinct capacity to be coupled with corners, open or closed ends, and in a length that exactly matches the space. Each sofa design is made to fit a variety of interior styles and room sizes. The renowned Danish brand is in the midst of introducing new sofas, with customers able to choose their preferred size and fabric.
Materials Used – What Makes A Juul Sofa
Juul offers 137 various textiles allowing for the customization of their sofa designs for any individual. In addition, Juul also created a sofa in beautiful velour, hefty wool, or Spartan cotton. They also feature four different types of leather in five to six different colours each. Juul sofas are made from a solid wood frame with a seat foundation made of Nozag springs covered in foam. Juul's upholstered sofas include a calico cover below a detachable cover for the frame.
Maintenance and Final Verdict
For Juul sofa pieces, when there is latex-foam filler underneath the upholstery, never use stain removers. Instead, you can use foam cleaners with proper directions from us. The sofas at Juul have removable covers that can be dry-cleaned for thorough sanitation when needed. For the sofas with leather upholstery, wipe the whole surface with a soft cloth followed by a slightly wrung-out cloth dipped in demineralized or cold-boiled water.

If you are looking for an alternative to iconic Danish designer sofas with a comfortable price point that sits within your budget, Juul is the authentic sofa brand for you.
---

The BEST
Top Renowned Danish Design Brands offering Scandinavian Sofa:
Eilersen
The highly respectable and renowned Danish Brand Eilersen offers top-tier sofa designs in the European market. Eilersen has been a design icon and a true contender in the industry since 1895. The rich history and origins of the sofa design brand started with the founder, Niels Eilersen, the best coachbuilder in Denmark. When the coach-building industry plummeted, the founder pivoted Eilersen into their next adventure in crafting furniture in 1902. They began by producing blind frames for upholstered sofas and secure their growth in the furniture market from then on.
Exquisitely Handcrafted For Opulent Homes
Eilersen is renowned worldwide for producing sofas of the highest caliber, and their fine handcrafted sofa blends comfort with 125 years of skillful design. Eilersen makes a virtue of simplicity and dazzles with its modern lines and global aesthetic. Their sofas blend with your décor when pressed against a wall and are only completely perceptible when touched. Every sofa design created by Eilersen will look gorgeous in any home, regardless of where it is situated or how it is put together.
Materials Used – What Makes An Eilersen Sofa
Sofas crafted by Eilersen are made of natural materials like cotton, linen, and wool because they are both enduring and comfortable. There are no two identical leather hides, and Eilersen's best-entrenched aniline leather is chrome- and vegetable-tanned for optimal suppleness and texture. Thread quality is essentially a make-or-break factor for the Eilersen couches. The spider silk-thin strands that make up an Eilersen sofa are left unnoticed. The strength and flexibility of the fabric are crucial since exceptional upholstery depends on these threads to keep itself together.
A large amount of fiberfill gives an Eilersen sofa a strong and "full" appearance. It provides buoyancy and optical density and covers armrests, front panels, sides, and backs of all sofas. The down feathers in an Eilersen sofa are handpicked and must be pure, odorless, and allergy-free. Each feather must also be uncut and no shorter than 60mm based on their uncompromised standards.
Maintenance and Final Verdict
Eilersen creates magnificent, long-lasting sofas that last a lifetime. Your designer furniture can last longer if it receives the proper care and upkeep. Their sofa pieces are also produced with labels on all their fabrics and materials, allowing you to change them as you please. Keep your upholstered Eilersen sofas away from heat sources and direct sunshine. Occasionally, carefully and gently vacuum the leather surface at decreased suction using the appropriate mouthpiece.

In every product Eilersen produce, they combine the best components of fine materials with a proud legacy of craftsmanship. Eilersen sofa pieces exude minimalism, functionality, and character. After several years of use, true quality becomes apparent in Eilersen sofa pieces. When you experience Eilersen sofas, you experience divine comfort coupled with remarkable Danish Design embodied in a piece of furniture.
House of Finn Juhl
Finn Juhl began his career into furniture design from scratch, much like other early modernists of his day. Seventy years later, in 2001, Finn Juhl's widow Hanne Wilhelm Hansen granted House of Finn Juhl sole rights to produce and reintroduce his sculptural and recognizable furniture designs, such as the France Lounge Chair and Poet Sofa. More than 50 classic timeless masterpieces make up the exclusive Finn Juhl collection, which is produced under strict quality control standards and with the utmost respect for the original history.
Revived Timeless Masterpieces
When relaunching Finn Juhl's furniture, the predecessors are extremely critical of what they do because there is no bottom line when it comes to Finn Juhl. Both the older original works from his home, private collections, or museums, as well as the original drawings, serve as the foundation for their collection pieces. While Finn Juhl's innovative and understated works on paper amply demonstrate his brilliance, the drawings also allowed them to follow his progress from initial idea to final visualization.
Materials Used – What Makes A Finn Juhl Sofa
Finn Juhl does not tolerate compromise in selecting the best materials in any situation. The sofas produced by the House of Finn Juhl use the same principles and materials as when it was first created. Finn Juhl's signature method makes it possible to achieve a distinctive finish and fine details. They selectively choose and source the finest natural pine, walnut, and oak wood that promises grace and endurance for generations.
In their upholstery work, House of Finn Juhl uses high-quality leathers that are essential to completing the quality of Finn Juhl's furniture. Thus, they only collaborate with competent partners who provide them. They feature six types of leather in various stunning colours that make their sofa designs pop in your home decor or blend with your living room design. House of Finn Juhl carries over seventy textiles including their "Watercolour" textile collection that is of the highest quality. They are working to increase the durability and quality of the fabrics while reducing their harmful effects on the environment.
Maintenance and Final Verdict
Solid wood furniture has a beautiful and special patina over time when well-maintained. It's advised to avoid placing solid wood furniture too close to heaters and leaving it in the sun for an extended amount of time. Dust accumulation on upholstered furniture will wear down the fabric and worsen the indoor climate on their sofas. It is highly recommended to use a clean mouthpiece and periodic vacuuming, ideally once every week, on your upholstered furniture.

The legacy of Finn Juhl is priceless, and there are countless other original designs in the collection for which we have grand ambitions in the years to come. The distinctive and beautiful design of Finn Juhl's sofas is well known and became iconic because it stood out from the other traditional chairs that were used at the time. Finn Juhl ignited the love for Scandinavian furniture that swept like wildfire across the United States in the 1950s and '60s. In the true essence of appreciating authentic Scandinavian design, a sofa piece from Finn Juhl would absolutely be a perfect head turner to have in your home.
---

VISIT OUR FURNITURE SHOWROOM
Discover more classic dining room furniture in our Singapore furniture store. We're located at 100E Pasir Panjang Road, #06-03, B&D Building, 118521, and our friendly, experienced sales team are happy to assist you in any way!