Stunning Modular Storage Solutions From Montana
---
Joakim Lassen's creative talent and business acumen propelled Montana to become a leading Danish furniture house. In a Funen-based 19,000 square-meter hi-tech facility, 160 employees collaborate to create exquisite products for clients around the world. Over the years, Montana designers have produced one stunner after another. In this post, we're happy to show you some fantastic storage solutions from the designer.
Panton Wire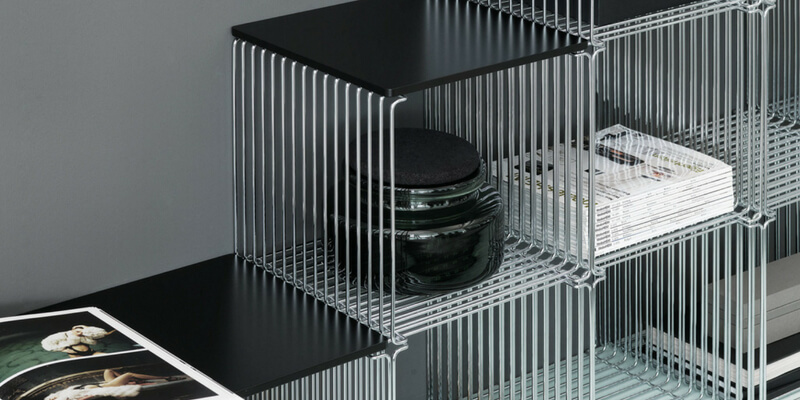 Verner Panton created the Panton Wire shelving system, which could be deployed individually or to complement other furniture. Sizing is one of the most exciting features of this product—craft a tiny shelf or build a large shelf with only a few additions. Available in chrome, dark chrome, and lacquered black, moulin rogue and black colors, the light Panton Wire system is equally elegant in residential or office settings. Panton Wire is one of the new arrivals in our Showroom!
Montana System
With plug-and-play modules, Peter Lassen's Montana System offers infinite possibilities for shelving. Choose from 42 colors, 4 depths and 36 modules to build a majestic shelf for all your storage needs. Build a personal shelf or a few shelves for various deployments in no time!
Montana Skyline
Peter Lassen designed a system of light shelves and tables to float on discrete wall rails in the Skyline shelving system. Depending on whether you want to create a display or desk shelf, configure the length and depth of the system. The Skyline could also complement other Montana products. Regardless of whether the deployment is a residential or commercial setting, the Skyline is incredibly stylish, akin to the Lion City skyline.
Montana Bathroom
An ingenious Peter Lassen design, create your own bathroom décor with cabinets, drawers, mirrors and sinks. In just a few steps, and your own creative imagination, transform the bathroom into a spa. Choose from sizes and colors to jazz up the spa-like experience.
Montana Shoe Cabinet
For a residential or commercial complex, a shoe cabinet is a must-have furniture. Designers at Montana put together a shoe storage cabinet, Montana Hall Edition, as part of the hallway product line. Place the shoe cabinet in the hallway, corridor or entrance area, as the 20 cm – 30 cm deep cabinet fits perfectly in narrow spaces.
Don't you agree these storage solutions are simply fabulous? We've just received some of these systems in our showroom. So, please feel free to come and check them out!