GUBI: Mixing it up in your home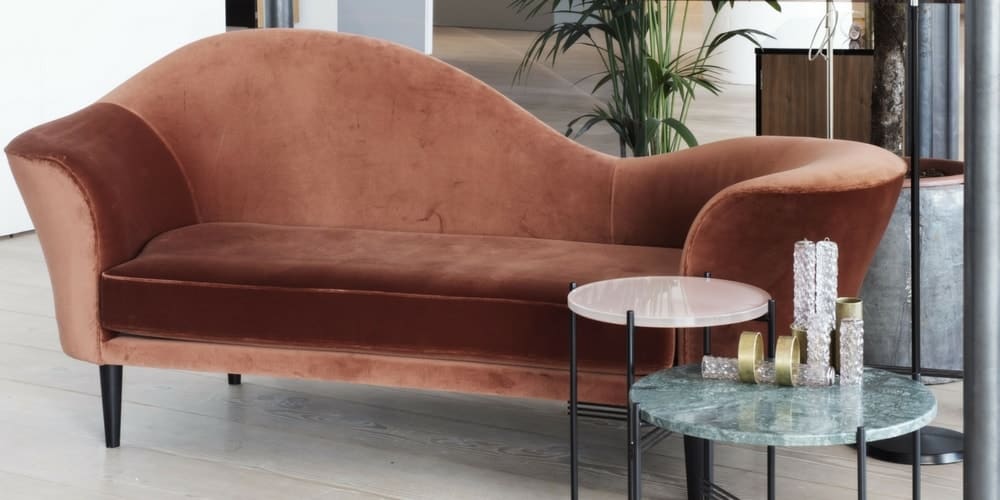 ---
Gubi's spectrum of products is known to be versatile and long-lasting. But just how adaptable are they? Read on to find out!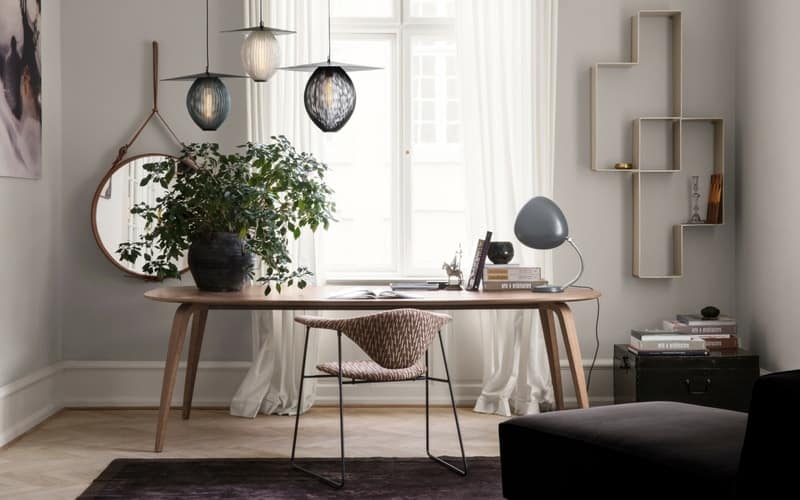 Featuring GUBI's Satellite pendant lamps, Adnet Circulaire mirror, Mategot Dedal shelf and Masculo chair. Set in a domestic landscape of a muted, natural grey, GUBI's pieces, each carrying their distinctive designs, illuminate and energizes the room, serving a proper balance to the neutral scene. We especially love the textual contrast introduced by the wooden GUBI dining table!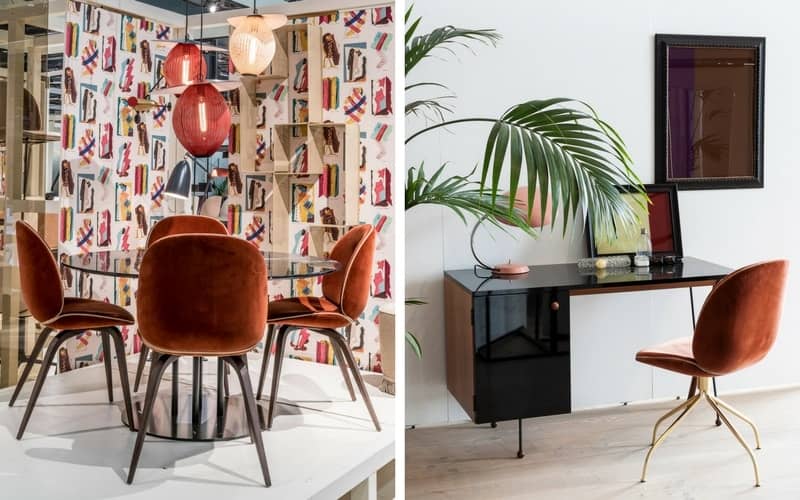 On the left: Recognise any similarities from the previous setting? Here's a dramatic space to indulge your senses in. GUBI's red and white satellite pendant lamps accentuates the vibrant scene, accompanied by GUBI's wood-based Beetle chairs, which heightens the attractive intimacy of the room. Against the multi-coloured wall, GUBI's pieces certainly add a touch of elegance to the scene.
On the right: Yet another member of GUBI's Beetle family! Paired together are the Grossman 62-series desk and Beetle swivel chair. Don't you think that the variety of shapes – seamless curvatures of the Beetle chair, coupled with the sharp, angular style of the Grossman desk spices up the study area?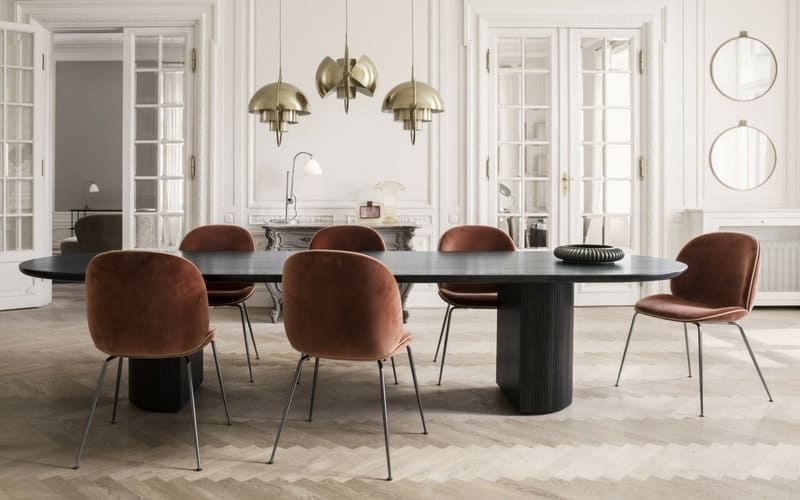 Your living room will thank you: GUBI's Moon Lounge Dining table, Beetle dining chair, Multi-lite pendant lamps, Randaccio mirrors – Black, red and gold tones turn your home into a palace fit for royalty.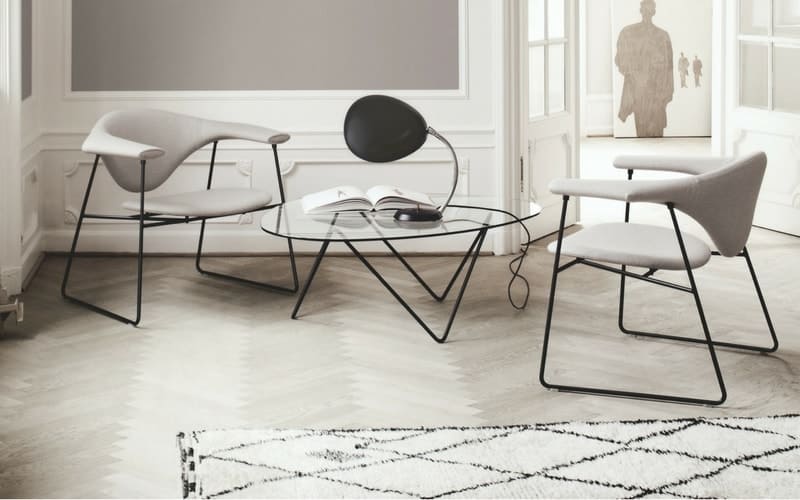 Impressed by the overwhelming purity of the white aesthetic? We are too. Excess is not necessarily a bad thing. Introducing GUBI'S Pedrera coffee table – slender base, transparent glass tabletop. Adding to the flattery of simple elegance are GUBI's sleek Masculo chairs, making a statement while dispersing your attention. Together, they keep the living room perspective of space and lightness.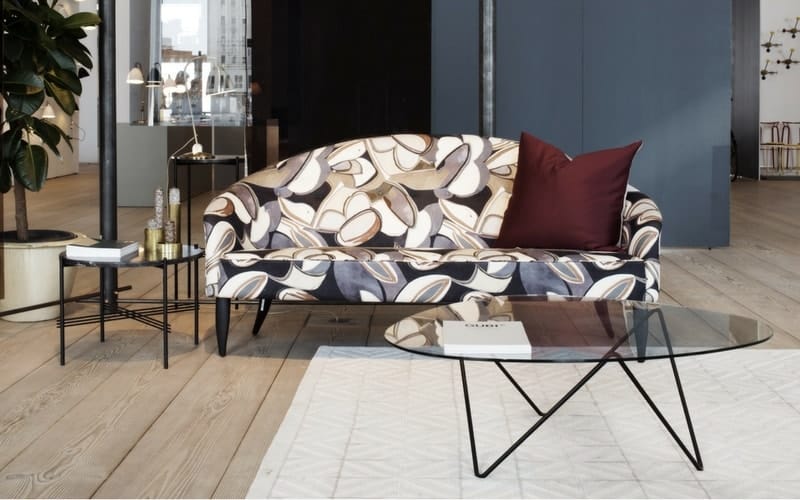 Explore non-analogous options for our living space: Who knew that the masculine Pedrera table goes so well with the feminine Paradiset sofa. Well, all we have to say is opposites attract.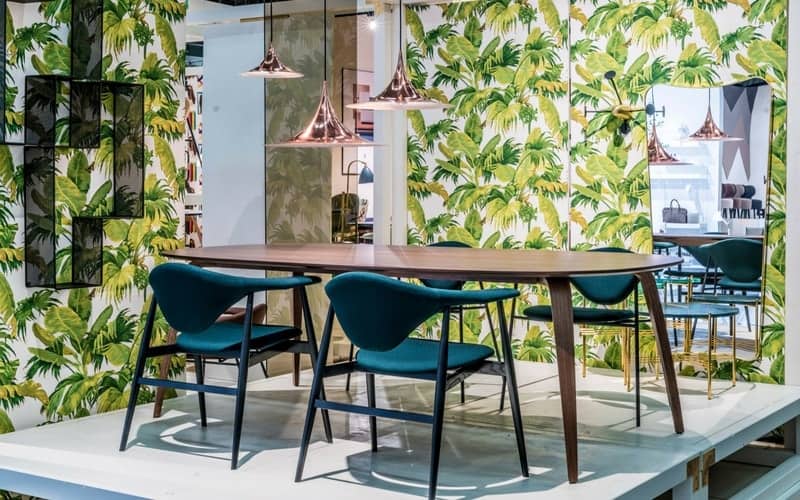 Dine in flora, fauna and greenery in the comfort of your own home: The cool tones of the bluish green Masculo chairs juxtaposes against the warmth of the surrounding brighter green, giving you the best of both worlds in one space. We cannot forget the classy semi pendant lamps hanging overhead and F.A. 33 mirror – their reflectiveness creates an illusion of space, perfect for a homely Singaporean space!
Just in case you were wondering: yes, there is even more to us than this. Come check us out at our showroom at 100E Pasir Panjang Road, #06-03 Century Warehouse. We are open daily, from 10am to 6pm on Mondays to Saturdays, and from 12pm to 6pm on Sundays and Public Holidays.
---