Are you on the search for high-quality outdoor furniture for your patio or balcony area? Look no further! At Danish Design Co Singapore, we feature designer outdoor furniture pieces that are not just stunningly beautiful, but also made from the most durable materials to withstand Singapore's hottest and rainy seasons. In our blog, you can find ideas and inspiration in which you can style your own balcony area. In Singapore, most balcony spaces have limited space, thus, it is important to intelligently design the square meters of your outdoor lounge area that is most ideal for your homes.
For starters, you can make a floor plan of your balcony. This provides you a general idea of how much room you have when you need to decorate. You should also think about how you want to utilize your balcony. Should it be utilized as a place to unwind and read a nice book, or as a outdoor dining space for delectable food and engaging conversations? Lastly, it is crucial that the furniture you select for the balcony be weather- and wind-resistant outdoor furniture.
Here's our take on how you can create different ambience and functions to your balcony area – featuring our outdoor designer brand, Cane-Line.
Create an Outdoor Dining Area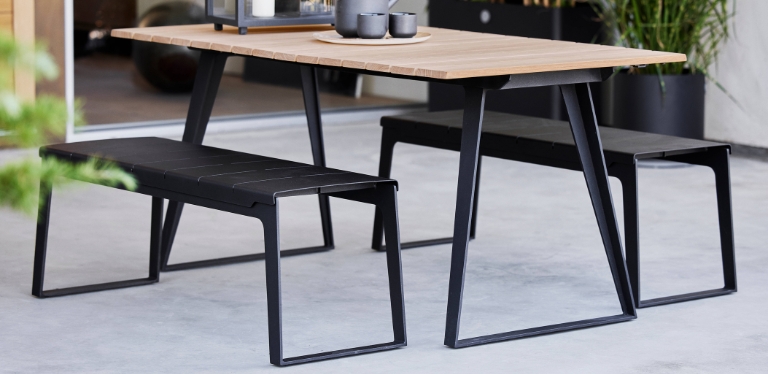 If you like to frequently host events that involves a meal, you would unquestionably require one of our outdoor dining tables or a whole outdoor dining set. Some of our outdoor dining table styles are extendable, unlike most of our competitors. This means that you won't have to spend as much time and effort setting up extra chairs for your numerous guests around your outdoor dining table. Furthermore, can you picture the amazement on their expressions when you demonstrate the expanding mechanism to them? At Danish Design Co. we also offer dining sets in various sizes, styles, and materials, including solid teak and premium bamboo, as well as in round, rectangular, and oval forms. You can select our Copenhagen Extendable Outdoor Dining Table paired with the Copenhagen Benches from Cane-line.
Create Your Own Outdoor Café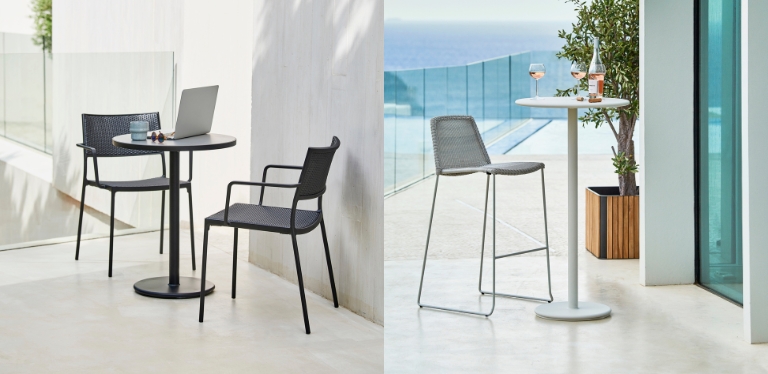 A small café table and two small chairs are a traditional choice for small balconies. This is especially appropriate for you if your balcony is small. The limited square meters of area are effectively utilized without feeling cramped. It also provides the balcony a cozy minimalist appearance. Create a little outside area in this way that is ideal for eating a romantic dinner on a sunny evening or taking your morning coffee outside while you work outdoors. You can create the perfect outdoor workspace at home with our Breeze Outdoor Bar Chair paired with the Go Outdoor Bar Table.
Create Your Outdoor Garden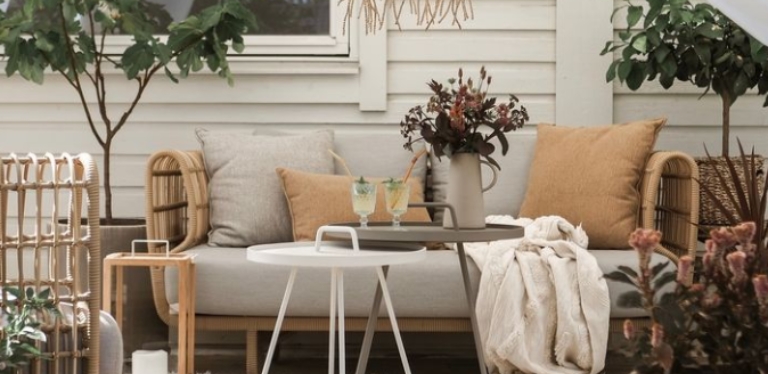 Do you enjoy having a sense of nature around you, even when you are in Singapore's bustling city center? Our greatest advice is to put lots of plants on your balcony and adorn it. Decorate it with planters and cultivate tasty cooking spices there. Put some lovely flowering shrubs or a cute tiny tree in the corner of the balcony to decorate it. Balcony flowerboxes are a good choice if your balcony is really small because they don't take up any real estate on the balcony itself. All of this results in a magnificent green oasis in the center of the city—a green haven where you can get away from the bustle. The Nest Outdoor 3-Seater Sofa will definitely tie in your garden look as the soft brown hues of the intertwining rattan blends seamlessly with your garden.
Create Your Outdoor Lounge Space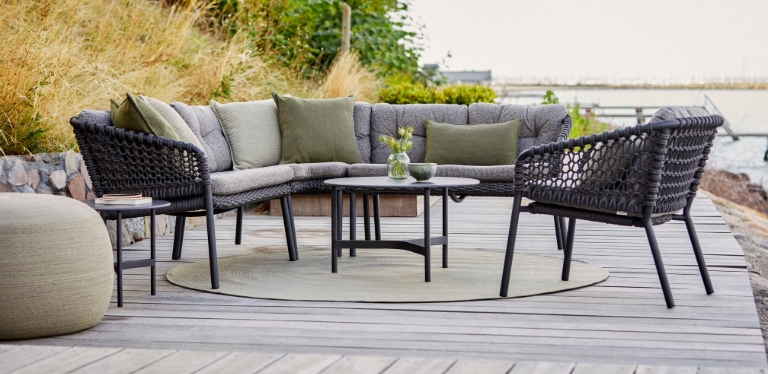 On the other hand, if you enjoy hosting guests and are fortunate enough to have a balcony that is a little bit larger, the modular sofa concept is the ideal option for you. Create a comfortable area where people can unwind during the day and enjoy time with friends and family at night. The ideal way to utilize the small corner area in this case is using sofa corners or modular sofas the Ocean Outdoor Modular Sofa and Lounge Chair. Pillows and blankets can be added to create the ideal, luxurious lounge setting.
---
Visit Our Singapore Furniture Shop 
Don't just trust our word on it! Do drop by our designer furniture store to experience the immaculate quality of our designs for yourself. We're located at 100E Pasir Panjang Road, B&D Building, #06-03 Singapore 118521.