Are you on a quest to seeking the perfect dining chair set to complete your dining room décor? The dining chairs that we curate at Danish Design Co. are hand-crafted by top designers in the Scandinavian furniture industry. Their design collection comprises of the perfect combination of excellence comfort and amazing design.
If you are going for a fine dining ambience in your homes, you would find that our pieces adhere to the designer Scandinavian design philosophy, which emphasizes simplicity and utility. It is undoubtedly simple to understand why given the stunning silhouettes and traditional, timeless styles that these dining chairs offer.
Don't know where to start? Read on to find out the different types of dining chairs we offer:
Wooden Dining Chairs

The classic dining chair designs from our well-knowned brands primarily comes in wood. The neutral shades of high-quality wood accentuates the ideal to fit into the Scandinavian aesthetic of your dining room. The YKSI Dining Chair from Fredericia and designed by Thau & Kallio provides the appearance that the backrest is far higher than the seat. The Finnish word for number one, YKSI, has legs that resemble an upside-down Y and redefines minimalism with its simple design. This does not imply, however, that it offers any less support than a more conventional dining chair.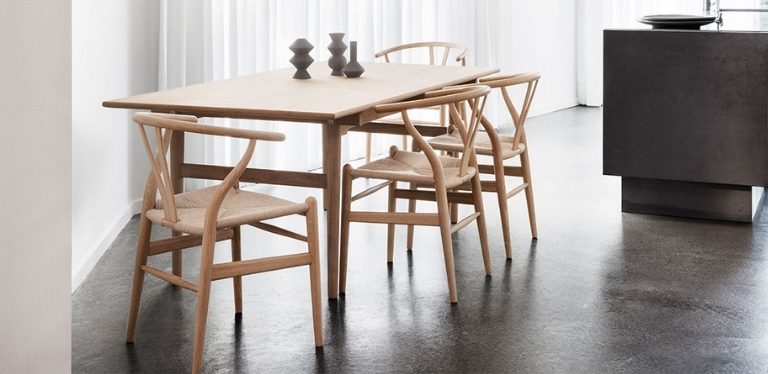 Other wooden dining chair designs worth mentioning includes the CH42 Wishbone Dining Chair by the legend himself, Hans J. Wegner. His very first design was created exclusively for Carl Hansen & Søn's in 1949. Wegner created the distinctive Y-shaped back for the Wishbone Chair to stabilize the steam-bent top and provide pleasant support. The chair is both sturdy and long-lasting thanks to the hand-woven seat made of paper cord, which has outstanding stability and endurance. The Wishbone Chair brings flair and practicality to any room with its light weight and sculptural design.

If you fancy a fuller frame design in your dining chairs, you can consider the Soborg Dining Chair and the Spanish Dining Chair by Fredericia.
Upholstered Dining Chairs

Another alternative that you can opt for while shopping for your dining chairs would be to look out for upholstered designs. A contemporary classic is the Gubi's Beetle Dining Chair. This sumptuous chair was featured at numerous renowned restaurants and opulent hotels all over the world. The distinctive circular design and curved edges creates the appearance of seamlessness that exudes a degree of grandeur thanks to the fabric upholstery.

Upholstered designs from Skovby gives a clean and high-end finish to your dining room experience. The stunning #65 Dining Chair is a modern chair with full upholstery. This contemporary chair has a stunning outer shell that serves as both support and aesthetic. The elegant #65 Dining Chair has been ergonomically created to provide you with comfort and support for your posture. Skovby's #40 Dining Chair has a stylish yet edgy appearance. The wooden frame provides a further delicacy to the structure, and the trapeze-shape frame gives the design a wonderful character that is elegant yet dynamic.
Metal Dining Chairs

If you want a unique edge to you dining room area, selecting a range of metal dining chairs would certainly make your overall décor stand out. The Panton One Dining Chair is a comfortable seat that has a stylish sledge leg shape and a lovely braided method around its metal frame. It was created by Verner Panton in 1955 and later released by Montana in 2003.

One of Hans J. Wegner's best pieces, CH111 Dining Armchair that has a stainless steel frame and leather fabric. The distinctive features of the twisted 90 degree back legs continues to be a magnificent and useful piece of furniture till today. You can have the best of both worlds within the CH88 Dining Chair designed by Hans J. Wegner. Its artistic and playful approach is created within the color plate where the combination of the upholstery, wood and steel reinforces its minimalist style.
Browse Our Designer Dining Collection
At Danish Design Co., we put a special emphasis on sourcing best dining room furniture that will not only be robust and practical but also emit an opulent ambiance that will improve your eating experience. Your dining area will be transformed into a chic and opulent dining room with ease thanks to our collection of designer furniture, which includes dining tables, dining chairs, and sideboards.
---
Visit Our Singapore Furniture Shop 
Don't just trust our word on it! Do drop by our designer furniture store to experience the immaculate quality of our designs for yourself. We're located at 100E Pasir Panjang Road, B&D Building, #06-03 Singapore 118521.