Take a step towards inviting a natural ambiance into your living room. With the pleasing tones of Nordic furniture that ooze a serene atmosphere into your household, integrating Danish Furniture into your home screams indoor nature. Danish Design Co offers authentic Scandinavian luxury furniture made by renowned designer brands that serve a more lasting purpose in your homes.

The statement design pieces crafted from only the finest wood and fabrics accentuate luxury and tranquility. Natural light bounces off the designer furniture creating a refreshing aura for a lifetime.
Here are designer Scandinavian pieces that would enhance your living area:
1. S1 SIDEBOARD
The S1 Sideboard by Andersen is a fantastic design intricately made with excellent craftsmanship. The extensive years of cabinetmaking by Andersen could be seen in the resounding quality of the sideboard. It is made with doors and cabinets that slide easily and is an ideal storage solution for your home. The natural shades of the wood will highlight the contrast against white walls and decor. It can be easily customized as well to your own unique taste.
2. RA SOFA
The lavish RA Sofa by Eliersen provides the best comfort accompanied by an otherworldly design that would fit any corner of your home. The slim steel legs of the sofa make it seem to be floating effortlessly. Synonymous to other Eilersen Sofas, the RA Sofa has an international touch that is easily customizable to your living area.
3. LIFT SOFA
An alternative option to give a contrast of color to reminisce the divine beauty of nature would be to include a statement with shades of browns. With the Lift Sofa, made by Eilersen, you will be able to experience its simple yet elegant design. The traditional box sofa has clean lines all around. Without compromising quality, Jens Juul Eilersen has an equally keen eye for ergonomics and additional neck support.
4. QUEEN LOUNGE CHAIR
The Queen Lounge Chair by Fredericia resembles elegance and femininity. It made its mark in the 1960s along with the iconic Ox Lounge Chair, both made by renowned designer, Hans J Wegner. The Queen Lounge Chair' showcases sleek and slim edges emphasizing beauty in simplicity. The comfortable cold foam-filled arm cushions are supported by sturdy chromed steel legs, giving this stunning lounge chair an air of lightness.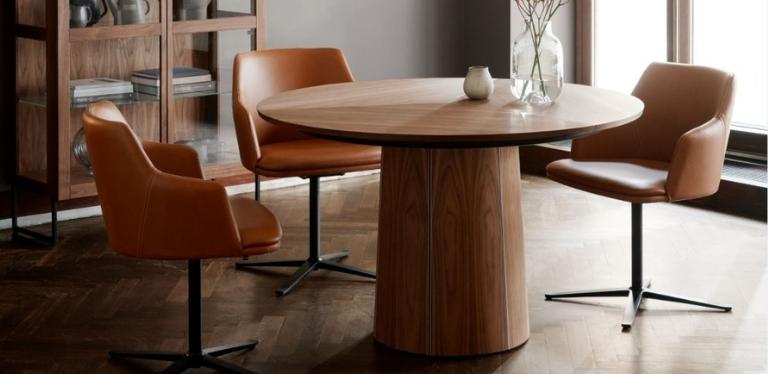 5. #33 ROUND EXTENDABLE DINING TABLE
The #33 Round Extendable Dining Table by Skovby takes its exceptional design that easily blends into the modern interior of any household. Its round shape and wood texture showcase the structural means of trees and their evolution. This Scandinavian design can accommodate six to nine people as it is extendable. You can easily access the extension mechanism after opening the table's center. Apply light pressure, and the extension leaves unfold.
6. HEAT PENDANT LAMP
To complete the different elements of nature, add an iconic piece that resonates with the Sun that influences the weather mood indoors. The Heat Pendant Lamp by Northern Lighting is a statement piece that most certainly stands out. It showcases a reflective brass mesh that resembles a glowing ball of fire when turned on. Consequently, the shade gives off a 'cloud-like' appearance when it is switched off. These unique and contrasting looks from the single Heat Lamp create a form of dynamism in your living room.
VISIT OUR FURNITURE SHOWROOM
Discover more luxury modern furniture in our store. We're located at 100E Pasir Panjang Road, #06-03, B&D Building, Singapore 118521.