---
GamFratesi, a Copenhagen-based studio founded by award-winning architects Stine Gam and Enrico Fratesi in 2006, is the latest muse of the design world. Tinkering with approaches, materials and techniques, the Danish-Italian duo continues to delight patrons with designer furniture that braid culture and tradition. Patrons love the expressions, tales and symbols as part of the experience. Come to our showroom at Pasir Panjang Road, and experience GamFratesi's story in these stunning furniture creations for yourself.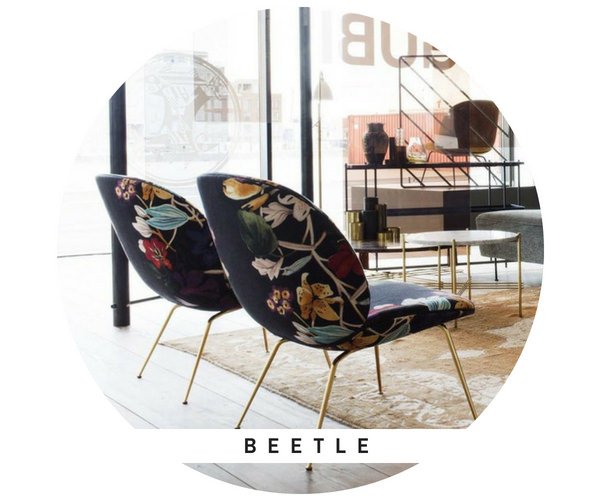 Beetle Lounge Chair
Constructed with just three parts, the Beetle Chair Collection is reminiscent of the classic intellectual approach to design and yet capable of sprucing up any setting with the range of schemes available for deployment. Made with laminated molded veneer, the 10-mm back and seat are easily assembled with a steel fitting. After assembly, depending on the setting, the Beetle chair features fabric or leather to match the decor. The Beetle lounge chair could effortlessly be deployed as a lounge chair or ottoman with the footrest. It also pairs well with other pieces of designer furniture.
The Beetle Chair is also available in the following: dining chair, dining chair with wooden base, swivel chair and barstool.

TS Console/Side Table
Designed for deployment as a group, the TS Side Table is available in four sizes and different heights. Depending on the setting, choose from marble and glass tops, and black lacquered and brass frames. Alternatively, use it for single deployments.
Although not meant to be a signature piece within any room, this side table still manages to catch the eye of shoppers. With its minimalistic but luxurious design, it is not hard to imagine why.

Haiku Sofa
If you enjoy pondering about the mysteries of the universe and enjoy its many manifestations, we invite you to lounge on the Haiku sofa to experience philosophy and poetry. Configurable as a two- or three-seater, this poetically-designed sofa is available in colorful fabric or leather upholstery. In contrast to the outer shell, the soft interior provides an intimate enclosure, thereby incorporating a modern twist in the design, and therefore making the experience blissful, akin to a cinematic tale.

Masculo Dining Chair
Characteristic of evolution, the Masculo dining chair is elegant in form and imbues the quality of playfulness, a cultural tradition in Italy. For a cultural philosopher, the large backrest, sturdy armrest and slender legs evoke nature's creation that makes the function effortless. The playful side of the invention is evident in the form, which is sculptural and attractive to the eyes. Deploy the dining chairs with any of the dining tables, thereby creating an enviable setting for memorable moments with your loved ones.
The Masculo is also available as a lounge chair and swivel chair.
Closing Notes…
Discover the full range of the GamFratesi designer furniture that we hoard here. Alternatively, you can drop by our showroom, located at the West region of Singapore.
---