When it comes to creating a timeless and sophisticated ambiance in your living space, few furniture pieces can match the allure of a leather sofa. The rich texture, luxurious feel, and enduring quality of leather make it a popular choice for homeowners seeking to elevate their interior design. In Singapore, renowned brands like Eilersen and House of Finn Juhl have mastered the art of crafting leather sofas that effortlessly combine style and comfort. In this blog, we delve into the captivating world of leather sofa furniture, showcasing exquisite pieces from these esteemed brands, and explore why they are highly sought after by Singaporean homeowners.
Leather sofas have long been associated with timeless elegance and sophistication. Their presence in a living room adds a touch of luxury and refinement, elevating the overall aesthetic of the space. The natural patina that develops over time gives each leather sofa a unique character, making it a cherished heirloom piece that can be enjoyed for years to come.
Eilersen
Meticulous Craftsmanship and Uncompromising Comfort
Eilersen is renowned for its commitment to exceptional craftsmanship and unparalleled comfort. Their leather sofas are a testament to their dedication to creating pieces that exude elegance and offer superior relaxation. With attention to detail and the use of high-quality materials, Eilersen ensures that each sofa like the corner Tub Sofa – becomes a statement of luxury in any Singaporean home. Whether you need a classic leather 2-seater or 4-seater design, Eilersen offers a wide range of options to suit various tastes and interior styles. Explore their varied upholsteries that are removable and highly customizable.
Gubi
A Harmonious Blend of Art and Design
Gubi is a brand that seamlessly blends art and design, resulting in leather sofas that are both visually striking and functional. With a focus on reimagining iconic designs from the past, their collection evokes a sense of nostalgia while maintaining a contemporary edge. Gubi's leather sofas feature clean lines, organic shapes, and luxurious finishes, offering Singaporean homeowners an opportunity to embrace classic elegance with a modern twist for young families. Each piece tells a story and serves as a conversation starter in any living space.
Fredericia
Timeless Beauty and Exquisite Detailing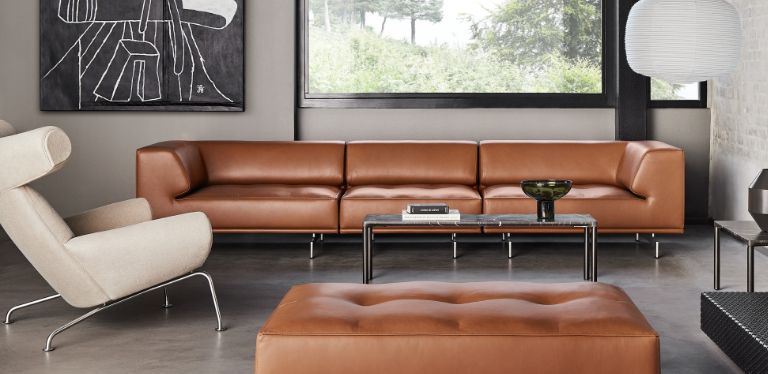 Fredericia is synonymous with timeless Scandinavian design and exceptional attention to detail. Their leather sofas embody simplicity, functionality, and refined beauty that seamlessly fits into multiple decors. Crafted with the utmost care and precision the Delphi Sofa is the perfect representation of Fredericia's collection that showcases the natural beauty of leather – creating an inviting and warm atmosphere in local homes. Whether it's a sleek and minimalist sofa or a more sculptural piece, Fredericia's leather sofas effortlessly merge aesthetics with comfort, making them a coveted addition to any interior.
House of Finn Juhl
Organic Forms and Unparalleled Style
House of Finn Juhl holds a special place in the world of Scandinavian design, known for its organic forms and artistic expression. Their leather sofas are no exception, showcasing unparalleled style and innovative design. Inspired by nature, each piece tells a story, captivating the senses and inviting relaxation. House of Finn Juhl's leather sofas combine comfort with sculptural elegance, creating a focal point that adds a touch of sophistication to any Singaporean living room.
Leather sofas have an enduring appeal that transcends trends, bringing classic elegance and timeless beauty to any Singaporean home. The leather sofas from brands curated by us exemplify the finest craftsmanship, meticulous attention to detail, and a passion for creating furniture that seamlessly blends style and comfort.
---
Whether you seek a Chesterfield sofa with traditional charm, a contemporary modular design, or an organic form that embodies Scandinavian design principles, these esteemed brands offer a diverse range of leather sofas to suit various preferences and interior styles. Invest in a leather sofa from our Iconic Collection and elevate your living space with a touch of enduring elegance that will be cherished for generations to come.