When it comes to high-quality sofas, local homeowners are aware that it is an investment made for their homes. With good reason, leather sofas are a popular option for home furnishings among Singaporean homeowners. A premium leather sofa oozes flair, personality, and luxury. However, leather is actually a long-lasting material that only grows better with time behind its opulent appearance. While many people are driven to leather sofas because of their elegant appearance, it's also simple to fall in love with leather because of its many useful perks and advantages.
Modern tanning techniques ensure that leather will not split, sag, or peel, making it a fabric famous for its longevity. According to experts, a leather sofa can last four times as long as a cotton sofa and is sturdy even at the seams due to its inherent qualities. The easy-to-clean surface of leather sofas makes upkeep simple. In contrast to fabric sofas, which need frequent vacuuming and cleaning, they often only need a little dusting or rubbing down a few times a year. Additionally, leather's inherent properties make it stain and spill resistant, perfect for households with small children. Having said that, it is important that leather should continually be conditioned to avoid cracks and splits even though it doesn't require constant maintenance.
In this blog, you can discover Danish Design Co's collection of leather sofa for your home that would make an iconic statement piece in your living room, as well as providing your loved ones with lavish comfort.

1. DELPHI SOFA by FREDERICIA
The Delphi Sofa, created by Swiss designer Hannes Wettstein, has established a reputation as the essential Danish landscape sofa. Delphi Sofa is created in the Fredericia workshop using premium materials, excellent upholstery details, and cozy comfort. The modules that make up Delphi Sofa can be configured independently and freely to fit your living space. The system is ideal for both smaller residential settings and larger business settings thanks to its adaptable design.

2. CHIEFTAIN SOFA by HOUSE OF FINN JUHL
Along with the towering Chieftain Sofa, Finn Juhl and cabinetmaker Niels Vodder debuted the Chieftain Chair in 1949. In the light of celebrating iconic designs from the past, the House of Finn Juhl produces a very limited number of handcrafted versions of this amazing piece of furniture. The sofa is hand-upholstered in Denmark using extra-large, premium skins.

3. LIFT SOFA by EILERSEN
One of Eilersen's iconic sofas is the Lift Sofa. Although it is only intended to be a standard box sofa, Eilersen's attention to detail was impeccable in this case. There isn't much left to detract from the design with such crisp lines all around. With this sofa, the adage by Antoine de Saint-Exupery about perfection genuinely comes into focus. To provide customers more alternatives, the sofa is offered in four different sizes, and the seat comes in two varieties. Customization is always delivered on time with Eilersen couches. To provide the sofa with consistent support, the back cushions are stuffed with down, while the seats are entirely made of foam and covered in pre-compressed fiberfill.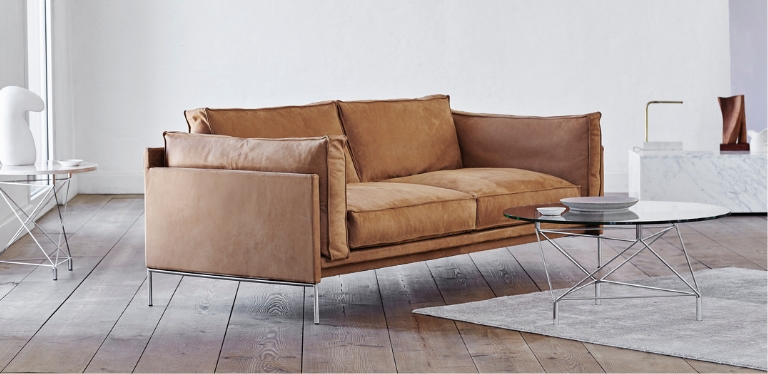 4. SLIMLINE SOFA by EILERSEN
The Slimline Sofa from Eilersen stands out for its airy, light appearance. The sofa's thin body is adorned with seat and back cushions covered in feathers. Each cushion has a flap edge that has been strategically placed to produce the right amount of contrast. The combination of the steel frame, back, ends, and cushions was meticulously planned out so that it not only has the ideal proportions but also gives the sofa an almost weightless appearance. The Slimline has a basic expression that blends seamlessly with the current streamline style because to its lightness and horizontal lines. This designer sofa is of the best quality, and it is stylish and sturdy.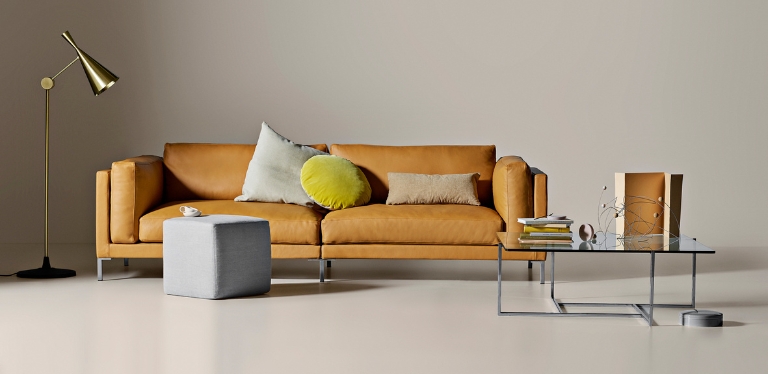 5. 301 SOFA by JUUL
The Eilersen universe gave rise to the JUUL sofas, and Jens Juul Eilersen is also credited with designing the JUUL models. The JUUL couches offer high-quality workmanship at reasonable costs. The 301 Sofa is available with leather or fabric upholstery. For leather upholstery, the model comes with a fixed cover that is attached to the frame. The legs are made of brushed stainless steel are standard equipment when the sofa is delivered. You can also opt for  polished stainless steel, white lacquered, or black lacquered legs.
Our Luxury Sofa Collection 
Our designer sofas are the pinnacle of comfort, excellence, and durability. These luxury sofas were made by professional European furniture designers, so they unquestionably live up to the high standards of Singaporeans who value quality. Find the greatest sofas from a wide selection, including fabric sofas, leather sofas, modular sofas, corner sofas, and chaise lounges. You can view these sofas in our Singapore showroom or purchase them right away from our online store.
---
Visit Our Singapore Furniture Shop 
Don't just trust our word on it! Do drop by our designer sofa and furniture store to experience the immaculate quality of our designs for yourself. We're located at 100E Pasir Panjang Road, B&D Building, #06-03 Singapore 118521.