`The living room is the heart of every home, a place where style meets comfort and personal expression takes center stage. It's where you unwind after a long day, host gatherings, and create lasting memories. Choosing the right furniture combination for your living room is crucial to creating a harmonious and inviting space that reflects your unique taste. Danish Design Co, Singapore's premier destination for exquisite furniture, brings together a selection of renowned brands like Eilersen, Andersen Furniture, Gubi, House of Finn Juhl, and Fredericia, offering a plethora of options to blend seamlessly with various interior styles.
1. Minimalist Marvel with Eilersen
For those who appreciate the beauty of simplicity and clean lines, a minimalist interior style is the way to go. Eilersen's collection resonates perfectly with this aesthetic. Their modern sofas and sectionals, like the Great Lift Sofa and Baseline Sofa, exude an understated elegance that complements the minimalist theme. Choose neutral tones like whites, greys, and blacks to create a calming atmosphere, and accentuate the space with a few carefully selected decor pieces for a touch of warmth. Eilersen also offers coffee tables like the Spider and Puzzle Coffee table that matches seamlessly with our iconic sofa pieces.
2. Timeless Elegance by Andersen Furniture
If your heart leans toward timeless elegance and a blend of traditional and modern styles, Andersen Furniture's range is a must-explore. The S1 and S6 sideboard, with its sculptural form and exquisite craftsmanship, can serve as the ultimate living room storage solution that exudes sophistication.
3. Artistic Flair with Gubi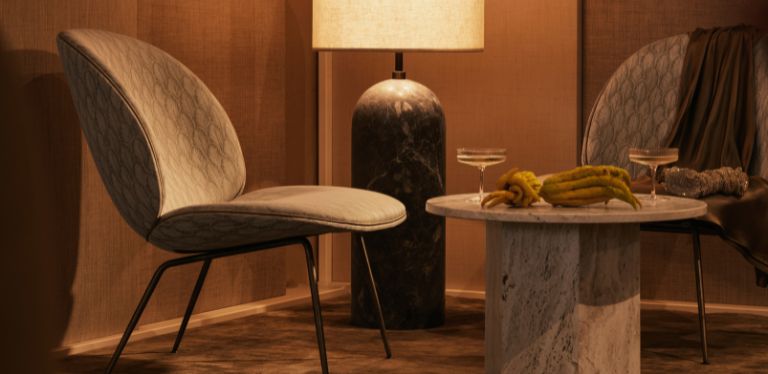 Gubi aims to serve homeowners who see their living space as a canvas for artistic expression, their collection offers a captivating range of furniture that pushes the boundaries of design. The Beetle Lounge Chair, available in various colours and upholsteries, adds a playful and sculptural element to your interior. Complement this with the Adnet Mirror, a masterpiece of art and functionality, to create a living room that resonates with creativity and individuality. Don't just stop there, you can include their fascinating sofa designs to achieve the full Gubi-inspired living room.
4. Mid-Century Modern Magic from House of Finn Juhl
Mid-century modern style continues to be a beloved choice for its organic forms and iconic pieces. House of Finn Juhl captures the essence of this style with its Pelican sofa, a design that effortlessly combines comfort with unique aesthetics. Paired with the Chieftain Lounge Chair, this furniture combination creates an inviting atmosphere that pays homage to the design trends of the past while remaining relevant today.
5. Contemporary Fusion with Fredericia
Contemporary interior styles thrive on a blend of different textures, materials, and designs. Fredericia's diverse collection is tailor-made for this approach. The Ox Lounge Chair, with its structured construction and steel base, adds edge to modern settings. Pair it with the Pon Table for an artistic juxtaposition of soft and solid elements that defines contemporary interior aesthetics.
Creating a living room that resonates with your personal style involves a careful blend of furniture that complements your chosen interior theme. Danish Design Co in Singapore offers a curated selection of brands that contributes to a range of aesthetics from minimalist to contemporary. By carefully selecting and combining pieces from these brands, you can curate a living room that not only reflects your taste but also becomes a conversation starter and a cozy sanctuary for both family and friends.
Remember, furniture is not just functional; it's an artistic expression that transforms your living space into a reflection of your lifestyle and personality.