The latest interior designs are heavily inspired by the elegant simplicity of Scandinavian style, where the hallmarks are minimalism, simplicity and comfort. This popular home decor trend has swept the globe and the popularity of Scandinavian furniture brands are a testament to this.
The Scandinavian-chic look offers an aesthetically cool and calming atmosphere to any room, flecked with sparks of colour and interest for a bit of vibrant contrast. Unlike other design trends, Scandinavian design has always been and will never go out of style as it is rooted in deep regional traditions. It is deceptively simple to the eye, and notoriously hard to pull off in practice.
So, what is Danish Design really about? How can you bring Scandi-chic into your own space? And, perhaps more importantly, how can you do this without a complete upheaval of your current spaces?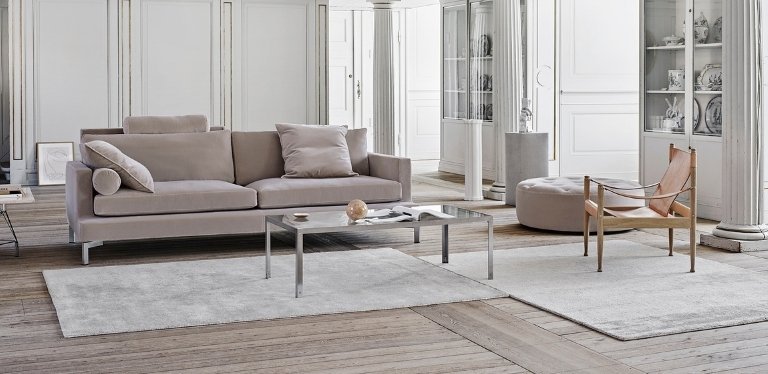 What is Scandinavian Design?
Scandinavian design began in earnest in the early 20th century, and reflects a mix of styles from Denmark, Sweden, Iceland, Finland and Norway. After a golden age in the 1930s, with iconic furniture designs from designers like Arne Jacobsen, Børge Morgensen, Hans J. Wegner, and Verner Panton, it reached international recognition, particularly in the US and Canada, in the 1950s.
This style aesthetic is a combination of modern functional design and traditional craftsmanship. Influenced by modernist German Bauhaus, the fundamentals of Scandinavian design revolve around simple yet iconic shapes and an unusual, often surprising, use of textiles. As industrialisation arrived in Scandinavia later than the rest of Europe, there is a real reference to industrial textures and landscapes in Scandinavian style. This is epitomised by Børge Morgensen's Spanish Chair, pictured below, which was designed in 1958 and remains popular today .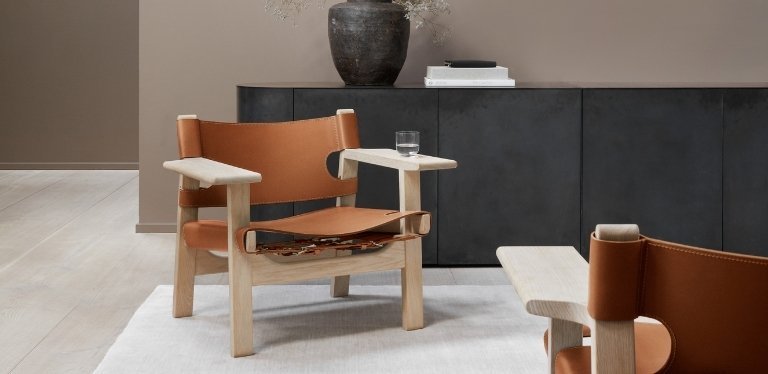 Perhaps even more critical to Scandinavian style are the feelings it provokes. At its core it aims to improve daily life though functional design, and by adding beauty, even serenity, into any space. Scandinavian style, though elegant and used by celebrities worldwide, can be achieved on any budget and relies on following a few key principles. In this guide we will take you through our Scandinavian design tips so that you can bring a bit of Nordic love into your home.
If you're thinking of giving your home a makeover and would like design advice, book an appointment with our home styling experts and receive a complimentary home styling service.
5 Easy Ways to bring Scandinavian Style to your Home
Change your Room Layout
The first principle of Scandinavian design is the emphasis of natural light. In the Nordic countries, winter is long, and days can be very short, so rooms are designed to make the most of the sunlight that is available. Bright, open spaces are key to this. It is this that brings a natural sense of calm into Scandinavian design. Light needs space to flow and breathe so rooms have to hold a sense of spaciousness.
The easiest and most wallet-friendly way to bring this into your home is to change the layout and content of your room.
Simplify your spaces. In an age of consumerism, it is too easy to buy, collect and hoard and our rooms are often a reflection of this. Take a step back and consider what pieces you actually use on a daily basis, keep these. You don't have to go crazy and dump everything else, we suggest going for the Swedish principle of lagomor 'in-between'.
You want to keep just enough that your room feels cosy, but not so much that it is cluttered. Once you have decided what to keep, space these across the room, with clear divisions between them to allow natural light to flow through. Do not block any windows as you want to make the most of the natural light coming in!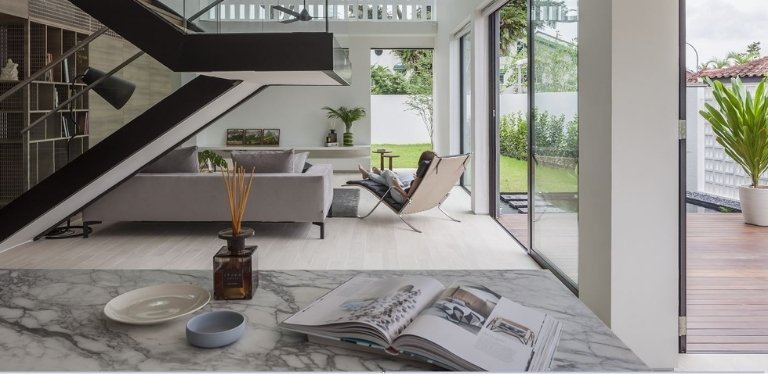 Natural Light plays a key role in this living room and dining room in Ang Mo Kio, Singapore, where our home styling team worked with our customer to create stunning Scandinavian spaces. Learn more about this project HERE.
Invest in Statement Pieces
Often, just changing the layout of your room can be enough of a change. But, if you are looking for a stronger Scandinavian stripe in your home, consider changing out one or two key pieces of furniture. Scandinavian style is all about striking furniture, and a statement designer sofa or iconic designer lounge chair goes a long way to changing the mood of a room.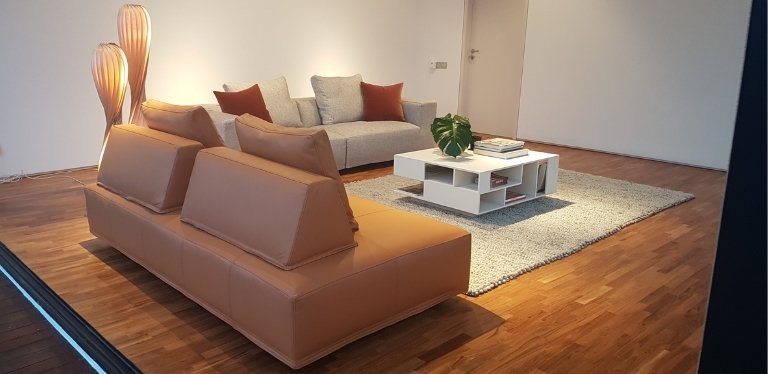 An Eilersen designer sofa is a great example of an investment piece. Learn more about picking the right Eilersen sofa for your home HERE.
We are not suggesting that your whole room has to be fully decked out in designer furniture. Instead, invest in a few quality pieces, where the use of high quality materials coupled with expert craftsmanship allow your designer furniture pieces to last from one generation to the next. These designer furniture pieces can be strategic.
Sofas, lighting furniture or lounge chairs often have the largest impact on a living room, for example. Danish design is rooted in a history of tradition and craftsmanship, and nearly all design companies today pride themselves on the build-quality of their pieces.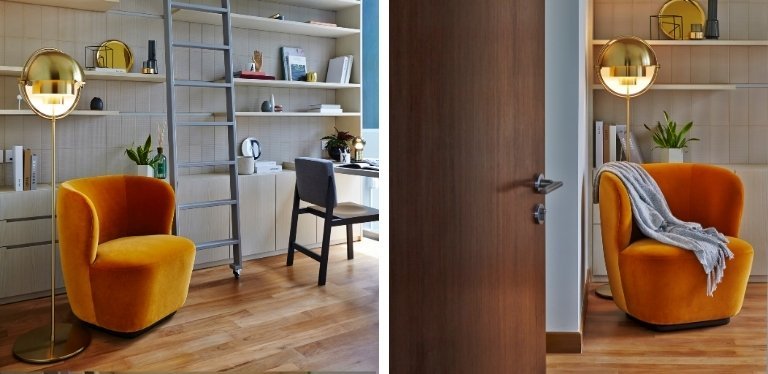 A statement designer lounge chair is a great option for tighter spaces. You can go for something modern and funky, like the above, or for a classic shape, both bring Scandi-chic in buckets. Have a look at our range of statement, designer lounge chairs HERE.
Designer furniture of this quality are not cheap, but they will last you a long time, and most can be multi-generational. Make sure that you purchase pieces that will fit into any design aesthetic and colour palette. Whites, greys and muted tones are best here as it will mean that your furniture will fit into your changing environment. You can change out other decor pieces and accessories over time, and completely change how your room feels without investing grossly. This will actually save you money over time.
Saying this, small statements should not be overlooked; play with textures – blankets, pillows or even a well-chosen rug. This is a wallet friendly way of bringing a bit of extra Scandinavian love to your spaces.
Nature is your Friend
Scandinavians have a strong affinity to nature. Scandinavian living is centred around the outdoors and this is reflected in their homes. By incorporating natural elements such as vibrant wood, nature-inspired pieces (like sheepskin, burlap or hide), or even just a few houseplants, you can bring this to your own home.
Cacti are both vibrant in colour and easy to care for, and can make such a difference to a forgotten corner. Carefully chosen pieces can bring the pop of colour you need to the room – delicate flowers like orchids can be incredibly vibrant and beautiful. Extra points if you use a modern glass vase to home it!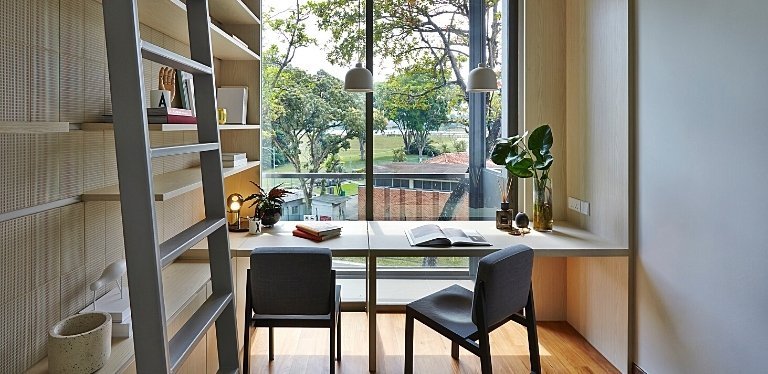 Nature became a key part of this chic apartment that our home stylist team did in Adana Condo. Carefully placed plants and light wood was used to accentuate the beauty of the view outside the window. Find out more about this project HERE.
Smart Storage Solutions
Declutter, declutter, declutter. As we have said before, Scandinavian design is all about functionality and sleek lines. You can achieve this in a way that doesn't interrupt the flow of the room. A few well-chosen bookcases, display cabinets or a wall storage system can also come in handy here. Storing items on the wall serves two purposes – it keeps your floor space empty, allowing for natural light to flow, and also serves as a very stylish and functional wall decoration.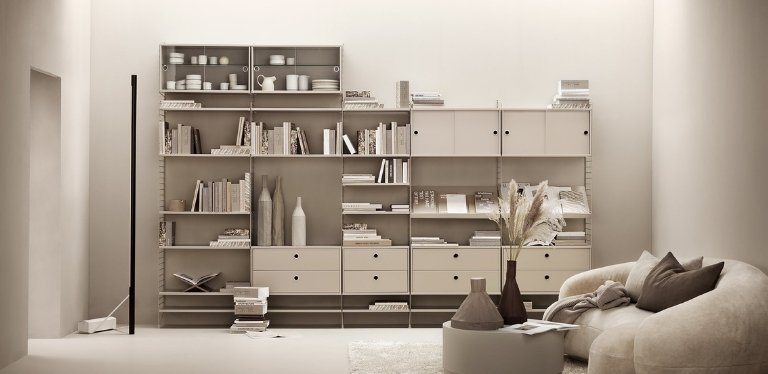 The String System is our most popular storage solution. It is endlessly customisable and full of industrial charm; it fits seamlessly into any space from kitchen, to study, to bedroom! Find out more about the string system HERE.
With decluttering, you need to think about the Danish philosophy of Hygge, which broadly translates to 'cosy togetherness'. Hygge is all about homeliness and ease. Often, this can be added to a room by creating nooks, for example a comfortable lounge chair with a few extra blankets or well-loved items that can be used for night-time reading or stolen snuggles.
Wood, Metal & A Pop of Colour
Scandinavian rooms' use of colour and materials is unique.
Scandinavian design is all about texture and surprise. In this sense, the rooms often rely on a sense of contrast. You can bring this to your spaces by applying some of the Scandinavian industrial heritage and mixing metals and wood. This classic combination is endlessly elegant while also providing the balance between homely comfort and harsh lines that epitomises Danish design.
In approaching colour, more often than not, Scandinavian-themed rooms often play with white to accentuate any natural light that is available. Importantly, though, they never stick to just one colour. Again, they play with contrast. A pop of colour always helps to bring a room alive and this can be done by adding bright accents, yellow is a common addition and so are neutral tones such as tan or pale blue.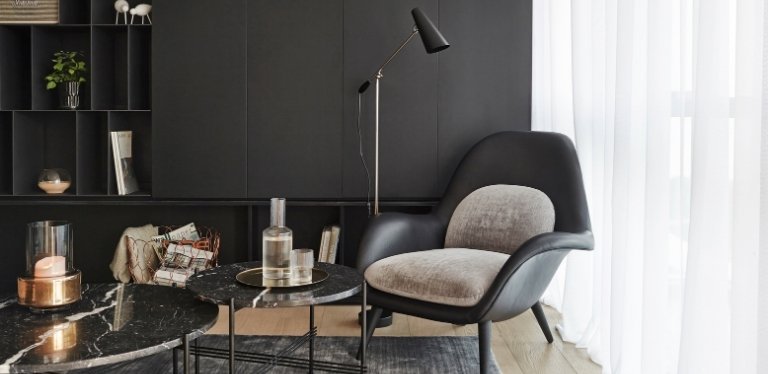 Accessories like the bronze light and velour pillows above can change the feel of a room and bring friendliness to otherwise stark pieces, as seen above in our home styling project at Amber Skye Condominium in Singapore. View more images from the Amber Skye project HERE.
You can also play with other forms of contrast; like light and dark or patterns and solids. This can be done through a use of accessories – a well-placed pillow can go a long way to illuminating a room. Or, if you are up for some home DIY, an accent wall is always a fun and low-cost addition and can make a great talking piece for any awkward gathering! Plus, if you want a decor change in the future – just paint it over!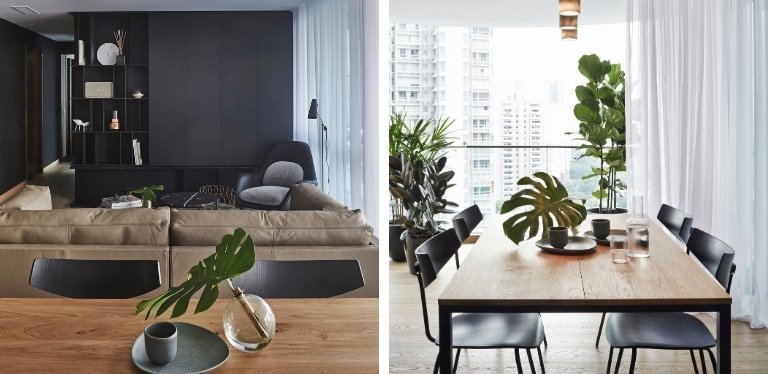 The use of contrast was integral to one of our more recent home styling projects, pictured above. Here, we played with light and dark to create an elegant, modern living-dining room combination.
For more tips on how to make the most of your space, get in touch with our in-house home stylists by booking an appointment below, or visiting our designer furniture store in Singapore.